Ga. prison boss pushes for law on contraband drone drops
Gregory Dozier doesn't want drone delivery to become one of the multitude of ways prisoners get things they're not supposed to have
---
By Maggie Lee
The Macon Telegraph
MACON, Ga. — The man in charge of Georgia's prison system sees a potential plague in drones.
Gregory Dozier does a lot of things to keep contraband out of prisons: lighting up facilities like football fields, setting up cellphone-sensing devices at all entry points, putting up netting like at golf courses.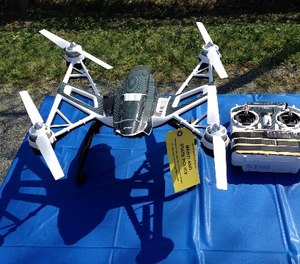 "Now we're combatting the drones," said the Georgia Department of Corrections commissioner at a state budget hearing on Tuesday in Atlanta.
"In [fiscal year] '18, we had 74 drone sightings," he said.
He doesn't want drone delivery to become one of the multitude of ways prisoners get things they're not supposed to have. No matter how phones get in, for example, he expects to seize about 6,000 contraband phones this year, in line with last year's numbers.
"I'll be asking you this year to support a bill that stipulates it's illegal for a drone to cross a prison's airspace," Dozier told lawmakers.
Dozens of reports of drones sighted by corrections officers, obtained by The Telegraph under an open records request, describe prisons put on lockdown while officers count inmates and scour grounds for any drop-offs.
The majority of reports list no contraband found in connection with drone sightings, though some do report officers finding phones, or what appeared to be marijuana or tobacco.
One report from Autry State Prison in May describes an odd find at the Mitchell County facility. An officer reported that as he was leaving a building at the prison, he observed a black drone with a package hanging from the bottom.
"After a few minutes of searches, an NFL football was located on Westside yard near the basketball court," the report reads.
The report was silent, however, on what was in the football.
Several states are considering joining the ones that already specify that it's a crime to fly a drone near a prison. There are a couple of ways to do that, perhaps as simply as adding a reference to drones to the part of Georgia law that already criminalizes bringing contraband into a prison.
The leader of Georgia Sheriffs' Association said he thinks sheriffs would be interested in adding county jails to no-fly zones too.
"I have not heard of a complaint from a sheriff about a drone drop. But if it hasn't happened it's a matter of time," said Terry Norris, the GSA's executive director.
But it's also possible to combat technology with technology, not just laws. Though it's not immediately effective, state agencies can ask the federal government to list places as no-fly zones.
Joining that list puts a virtual fence around a facility: drone manufacturers use that list to set the software so that the machine lands itself instead of going in those "geofenced" areas. An online map published by DJI, a big drone manufacturer, indicates that for many of its models, a radius around state prisons is already geofenced.
"We're anxious to see the bill and look forward to working with the Department of Corrections to help them achieve their goals," said Lewis Massey, whose lobbying firm represents DJI in Georgia.
©2018 The Macon Telegraph (Macon, Ga.)