NH prison system to start using Vivitrol
The so-called 'wonder drug' is a monthly injection that blocks receptors in the brain
---
By Kiera Blessing
The Eagle-Tribune
CONCORD, N.H. —  In the fight against the opioid crisis, addicts are beginning to look for help in the very place they have historically been punished: prison.
This week, the New Hampshire Department of Corrections will release its first inmate armed with a dose of naltrexone — commonly referred to as Vivitrol — into the community, following in the footsteps of a program launched in Massachusetts in 2014.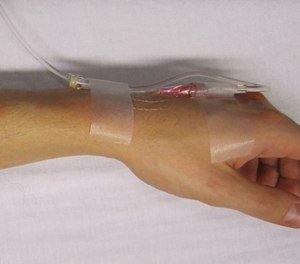 The so-called "wonder drug" is a monthly injection that blocks receptors in the brain, preventing drug abusers from getting a high.
Vivitrol has also been shown to reduce cravings, and in some cases, even alleviate depression; it is now used in over 100 programs across 30 states.
The use of Vivitrol in Massachusetts correctional facilities began in Barnstable and Middlesex counties about four years ago when Sheriffs James Cummings and Peter Koutoujian started investigating the use of the relatively new drug in their respective jails.
Vivitrol was approved by the Food and Drug Administration for the treatment of opioid dependence in 2010; previously, it was used primarily to treat alcohol dependence.
"We were speaking about what sounded like an amazing opportunity to me," Koutoujian said. "When I first became sheriff, I knew that we had an opportunity in the lives of these addicts (who) now, for the very first time, were going to be detoxed and clean. We had a window of opportunity to be able to treat them."
The jails partnered with Alkermes, the manufacturer that produces Vivitrol, to begin the program.
Alkermes provides the first injection — which can cost up to $1,000 — to the facilities free of charge.
The company also runs a value program that pays up to $500 per month toward the cost of the co-pay or deductible for patients 18 and older who are not covered by federal or state health insurance.
In Massachusetts and New Hampshire, newly released inmates are eligible for coverage through Medicaid or MassHealth, both of which cover the cost of Vivitrol.
The success in Barnstable and Middlesex counties caught the attention of the Massachusetts Department of Corrections, which launched the Vivitrol program at 10 of its 17 correctional facilities in September 2014, in addition to the jails already running programs.
Statewide, 90 prison inmates are involved in the program.
Jeffrey Fetter, the chief medical officer for the New Hampshire DOC, learned of Massachusetts' program in fall 2014, and immediately began working with the department to bring the program to the Granite State.
Fetter has personally overseen the progression of the state's pilot inmate through the program's rigorous eligibility criteria, which is similar to those in the Bay State.
Inmates likely to be eligible are identified within the facility, then screened for mental and physical health, educated about the drug, and given oral Vivitrol to test for allergic reactions.
Provided no red flags are raised along the way, inmates are given an injection between two and seven days before their release, and sent into the community with a comprehensive recovery plan using local rehabilitation centers.
Fetter will see to the release of that first inmate, a woman at the state prison in Goffstown, this week. If all goes well, the program will be implemented throughout the prison system in the coming months.
"The risk of the period right after being released from incarceration is very high, both for relapse of substance abuse as well as for accidental overdose death," Fetter said.
During the first two to four weeks after their release, recovering addicts are 12 times more likely to die than the general public, with many of those deaths attributed to accidental overdoses.
"The availability of substance abuse treatment in the state makes it hard for us to give all of our patients the very best chance to avoid those kinds of negative outcomes," Fetter said.
The Vivitrol programs are capitalizing on the unique opportunity for sobriety created by incarceration. Patients using Vivitrol must have completely detoxed before receiving an injection, but the benefits of maintaining treatment — at least for six months — are enormous.
According to at least one study, recovering addicts who received a Vivitrol injection once per month for six months were opiate free 90 percent of the time, said Emily Feinstein, the director of Health, Law and Policy at The National Center on Addiction and Substance Abuse.
"Those who do use it six months are much less likely to be opiate positive, less likely to be incarcerated and more likely to be working," Feinstein said.
In Middlesex County, receiving six monthly Vivitrol injections and remaining opiate free for the six-month period is considered "success."
While 77 percent of released offenders find themselves back behind bars within five years, the recidivism rate among loyal Vivitrol users is only 9 percent.
"Naltrexone is such an exciting possibility to give people a chance to get through those two to four weeks so they can get through treatment and reintegrate into the community," Feinstein said. "And if they relapse, which is likely, they won't get high. It gives them a chance."
For all its success, Vivitrol still works best when coupled with counseling and requires determination from the user.
Both New Hampshire's and Massachusetts' programs seek out inmates that are committed to recovery.
In Barnstable County, Cummings said 50 percent of the inmates given Vivitrol before their release are still drug free today; the recidivism rate among those who received the injections is only 12 percent.
"Every time I go to a public function, someone comes up to me, usually a mother, and says, 'You saved my son or daughter's life with Vivitrol.' It's made a big difference," Cummings said.
Koutoujian, the Middlesex County sheriff, said the program has seen a 78 percent adherence rate so far, and an explosive 50 percent growth just in the last two months. Some of the inmates involved in the program are even self-referring themselves, he said.
"The numbers are small, but they're very promising at this point," Koutoujian said.
The New Hampshire DOC will hold a meeting May 19 to discuss "launching the program in earnest," Fetter said.
"We're very hopeful, and I'm excited to get it launched, but we've got work to do," he said. "This truly can only be one small piece to a larger statewide response to this problem."
Copyright 2016 The Eagle-Tribune