Sweep at Ala. jail nets massive amount of contraband
The jail — which is undergoing renovation — has about 360 locks. Approximately 200 of them don't work
---
Donna Thornton
The Gadsden Times, Ala.
Etowah County Sheriff Jonathon Horton started hearing complaints about contraband in the jail a few days after taking office and decided action was needed.
Thursday, deputies, investigators, jail staff, U.S. Marshals drug agents and agents of the Etowah County Drug Enforcement Unit went into the jail for a shakedown and found a lot of thing that shouldn't have been there.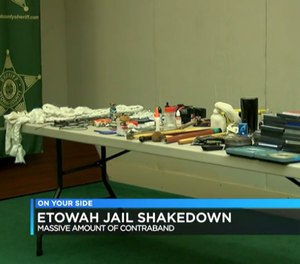 There was a table full of items — improvised weapons, ropes, DVDS among them — on display at a press conference Friday, and a room full of "soft" contraband off the salle port at the back of the jail.
Horton said he was concerned at the amount of material inmates had that they shouldn't have, but he tried to be understanding about how it came to be.
The jail — which is undergoing renovation — has about 360 locks, he said.
"Approximately 200 of them don't work," inside the jail, he said. Exterior locks function, he said, but in those 200 cells, the corrections officers cannot lock inmates in their cells for infractions.
In Etowah County's direct supervision facility, that means a guard is surrounded by inmates, and can't secure them, he said, and cannot exert the kind of control he should be able to.
In one cell, he said, there was an oscillating fan plugged up via an electrical cord run across the floor, taped down, and plugged in at the corrections desk.
In another, the corrections officer's chair was in a cell, occupied by an imate.
The lack of control and locking doors is a safety issue, not just for staff but for inmates, too.
The renovation will address many of the problems, but it's going to take time.
In the meantime, Horton said, the shakedown has taken away things inmates are not allowed. He said the jail will have future inspections, and if conditions are not better, he will look at taking away inmate privileges to gain compliance.
The shakedown covered 637 of the 903 inmates in the jail; ICE areas were not included in the search.
Horton said officers went into 187 cells and 12 pods.
One inmate will face charges because narcotics were found on his person, Horton said.
Quontavius Lawayne Williams, 20, was charged with two counts of unlawful possession of a controlled substance, one count of second-degree promoting prison contraband, second-degree possession of marijuana and misdemeanor possession of salvia.
The main reason for the full shakedown was cleaning up, not bringing charges.
A number of items fashioned into weapons, were found — like a sharpened toothbrush — and a lot of rope made of various items.
Horton said there was about a "half-ton" of soft contraband — items that might not pose a threat, but that inmates are not allowed to have.
A lot of the soft contraband was excess linens or mattresses, food, janitorial supplies, cell phones and lots of ropes, Horton said, that had been made and could be used for "fishing" contraband from outside the jail through holes made in the windows.
———
©2019 The Gadsden Times, Ala.
McClatchy-Tribune News Service