Texas COs find $17M of cocaine in box of donated fruit
After scouring all the boxes, agents found a total of 540 packages of coke
---
By Keri Blakinger
Houston Chronicle
ANGLETON, Texas — It was a fruitful morning for a pair of prison guards who uncovered some monkey business when they spotted $17.8 million of cocaine hidden inside a shipment of bananas donated to the Texas prison system.
Two sergeants at the Scott Unit set out on Friday morning to pick up two pallets of already-ripe fruit - 45 banana-filled boxes - from the Ports of America in Freeport.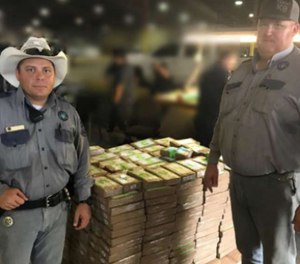 When they arrived to grab up their load, they found one of the boxes felt different from the rest.
One of the sergeants snipped away the straps and rummaged around until he uncovered a bundle hidden under the bananas. Inside, was a white powdery substance.
U.S. Customs showed up to help, and positively identified the substance as cocaine.
After scouring all the boxes, agents found a total of 540 packages of coke, with an estimated street value of nearly $18 million.
The Drug Enforcement Administration, and Customs and Border Protection are both investigating, according to a prison press release. But, it appears, the perpetrator has already split.
McClatchy-Tribune News Service