Why COs and leaders need to take a stand against corruption
Fear of retaliation is the main reason officers are afraid to step up to the plate and report staff misconduct
---
Corruption is a topic that scares many people in the corrections profession. On one hand, a large portion of correctional officers feel they have an obligation to report corruption. On the other, many of those who feel obligated have a fear of being victimized or retaliated against by the so-called good old boys system or the corrupt officers themselves. Let's not sugarcoat this situation, many of us have seen people who reported prison corruption be ostracized and eventually ousted by prison administration.

Fear of retaliation is the main reason officers are afraid to step up to the plate and report staff misconduct. This is not a good situation for any organization. Corruption goes hand in hand with excessive state spending and the prison system is a contributor. Forget the money for now, honest officers have lost their lives over weapons and drugs smuggled into the prisons by corrupt staff. Law enforcement officers and innocent civilians have lost their lives because of corrupt officers aiding inmates with escapes. We can no longer stick our heads in the sand and ignore misconduct in the field of corrections. In order for this profession to move forward we must address this issue and grab the bull by the horns.  
Zero tolerance for corruption
We all have a moral obligation to protect honest, hardworking correctional officers and prison staff. As correctional officers we must support the reputation of this profession by earning respect through exemplary conduct and good moral ethics within the profession. This has to start with the administration working in cooperation with the entire chain of command down to the front line staff. By working together to remove the cancer of corruption from our ranks we accomplish many things. We show our fellow officers we trust them and want only the best for them. We show the community we can police our own and take care of business. This helps build a bond with our community and the profession gains respect. A loud and clear message must be sent to any staff member thinking about falling in love with an inmate or smuggling a cellphone or drugs for inmates. Examples need to be made of dirty staff by working with the local prosecutor's office to pursue criminal charges.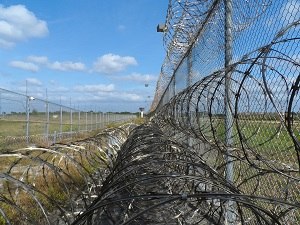 Preventing corruption in corrections
Training centers across the country need to implement more training in ethics, inmate manipulation and the consequences of staff-inmate relationships. I have been told by some prison management that correctional officers took an oath of office and as adults should know right from wrong. Despite the oath, there is evidence that correctional officers are being arrested across the country for contraband smuggling and staff-inmate relationships. We must educate and inform every new correctional officer entering this profession of the dangers of inmate manipulation and the consequences they could face. Training correctional officers on what not to do and what to look for will hurt everyone less in the long run. While most lessons are learned through observation and experience, in the case of staff misconduct, we cannot stand around to wait and see what happens. 
We must give young correctional officers the opportunity for a successful career by building a good foundation and train them to be highly observant. Our honest, hardworking correctional officers who have years of service under their belt have earned the right to work in a safe environment. Management must protect correctional officers from the dangers corrupt staff members place them in. There should also be special training for supervisors to help them recognize a potential security risk involving a staff member. Teach staff to look for signs of gang members in uniform and how to recognize the signs of an officer becoming friends with an inmate.
Administrative transparency 
As a former prison inspector of 12 years, I have seen prison wardens, assistant wardens, colonels and captains retaliate against staff who reported staff misconduct. I have conducted investigations in this area and, unfortunately, some of the retaliation allegations were substantiated. When this type of activity occurs it not only can result in the dismissal or demotion of higher ranking prison officials but it brings the community to question our ethics and even worse encourages honest, innocent staff members to remain silent and not report corruption.  
The most recent example that comes to mind is the former Los Angeles County Sheriff Lee Baca, on trial in federal court related to a corruption and abuse scandal that ended his 48-year career in law enforcement. Allegedly Sheriff Baca attempted to interfere with a federal agent conducting an investigation within his jail regarding abuse of inmates. Baca pleaded guilty to one count of lying to federal investigators, but has twice withdrawn the plea. The same investigation resulted in 10 other sheriff's department officials who have plead guilty or have been convicted including Undersheriff Paul Tanaka, who is now appealing a five-year prison sentence.
In the state of Florida, the secretary of corrections and the deputy secretary went to federal prison for taking kickbacks from a food service vendor. The investigation resulted in 90 additional Florida prison officials being terminated from their jobs due to cover-ups involving written reports and staff misconduct. Several officers were also indicted for importing steroids from Egypt that were used for the secretary's elite prison softball team. Anyone who went against this wall of upper management was outcast and retaliated against. In the end, it took the girlfriend of one of the officers involved in the distribution of steroids, a correctional officer related to a high ranking Florida official and a federal investigation to bring down this wall of corruption.
In more recent news, Georgia had 46 former and current correctional officers arrested for smuggling cocaine, methamphetamine, cellphones and more in exchange for thousands of dollars. Five of those officers were allegedly on a squad used to help prevent the introduction of contraband.
Legislative changes 
We need lawmakers to go to the prisons annually and take a tour and ask questions. Ask questions not only of the management, but ask the frontline correctional officers how things are going. A good general in the military talks to the troops and asks questions, the same principle should be applied in corrections. Law makers need to have a committee that studies the Inspector General reports regarding officer or prison staff misconduct and arrests as well as the types and amounts of contraband recovered at each institution. The information gathered should then be followed up with a plan of action, funding and additional manpower to fight this issue. Lawmakers have the funds and prison management has the knowledge, now is the time to clean up and protect our honest prison staff members from the consequences of corruption. 
Stand against corruption
With all the duties a correctional officer must perform daily, the last thing he or she should be worried about is the distraction from a fellow officer getting involved with an inmate. The truth is, it happens and we have to be aware. As if the inmates are not enough to worry about, a dirty officer can wreak havoc on fellow officers. Honest staff must stand together and take a serious interest in developing new officers and molding them into good officers. Officers need to report misconduct that can lead to contraband, violence, escapes, or other serious incidents. Counsel and teach officers who make a mistake or are headed in the wrong direction. Not every mistake by an officer deserves punishment. We have to use common sense and guide an officer in the right direction. Keep in mind this article is talking about criminal activity. Many administrative issues can be handled without punishment. Too much pressure by administration can also cause harm to an agency.   
The thin blue line mentality has to go out the window. This type of mentality will allow tolerance for misbehavior that harms our profession and worst of all our safety. For the future positive growth of corrections, we cannot standby and allow co-workers with dangerous behavior to use our system for personal gain.