PRESS RELEASE
Original SWAT Celebrates 10 Years!
---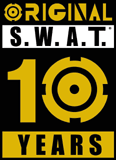 Modesto, CA – 2009 is a big year for Original SWAT.  Not only does the company expect significant growth, but it has also reached a distinguished milestone: 10 years of providing superior tactical footwear to public safety professionals.  In it's first decade, Original SWAT has become known as the top brand for fit, quality and comfort, and is widely distributed all over the world, including Canada, Latin America, the European Union, and the Middle East.
 
Original Footwear Co. was founded by Terry Mackness, who entered the footwear industry in the U.K. in 1980.  He came to the US in 1988 to work for hiking boot company Hi-Tec. There he had his first opportunity to explore the law enforcement products market and saw an opportunity to grow the company.  After creating the Magnum tactical brand and achieving landmark success there, he left Hi-Tec to create his own brand, and Original SWAT Footwear was born.  As an industry visionary, Mackness was able to incorporate the basic technologies used with Magnum and newer technologies used in the athletic shoe industry to create a better fitting, more comfortable boot, the Original SWAT Classic.  
 
Since then, Original SWAT has grown into a global manufacturer and distributor of an entire line of footwear for elite SWAT Teams, all levels of Law Enforcement, Military, and public safety professionals.  Today, Original SWAT offers several categories of footwear:  tactical, air sole, safety toe, waterproof, insulated and dress shoes.  The most popular and best-selling are the 9" Classic boots, in side-zips, basic black, desert tan, coyote brown, Air Force sage, and even Mossy Oak BrushÒ camouflage. Newest styles include the M.T. boots, with slip- and oil-resistatn outsoles designed for urban environments.  A unique characteristic of the M.T. collection is the arch ladder tread, specifically made for grip on rope rappels.  Their  higher end tactical boot features an all-black upper and VIBRAM® branded outsole,  designed in part by a former German GSG-9 officer.

What's made Original SWAT footwear so widely successful? Much is attributed to shoe "last" design and development, which is the number one factor in producing well-fitting footwear.  "Last" is a shoe term that essentially translates into the "former" for making the shape of the shoe.   Original SWAT invested resources into building the perfect last, thus ensuring a better fit, which translates into increased comfort and performance.  The last is the starting point.  Most companies in the boot business have not revised their lasts.  The majority of Original SWAT's competition is involved in supplying the military, using a military-influenced last designed to fit as wide a range of people as possible.  Original S.W.A.T. lasts are more athletic, so people are more familiar with the fit and feel.
 
Celebration of the 10 year milestone will kick off at the 2009 SHOT Show in Orlando this January, with special events, commemorative merchandise, and show specials for all new and current customers.  Visit Original SWAT at SHOT Show booth #9739, January 15 – 18, 2009.