How secure oral care products keep COs and prisoners safe
OraLine's Secure Care products include toothbrushes, toothpaste and floss safe for distribution within facilities
---
Sponsored by OraLine
By Melissa Mann for Corrections1 BrandFocus
Products for correctional institutions need to meet certain requirements for safety. That's why OraLine developed a suite of Secure Care oral care products as a safer institutional alternative to traditional oral care items.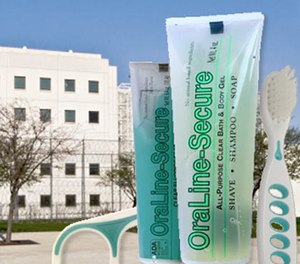 OraLine designs and supplies dental products for large-scale correctional facilities, such as Rikers Island in New York and Los Angeles County in California, and distributes over a million and a half security toothbrushes to Texas State Correctional facilities annually.
Here's what the company's Secure Care product line offers.
Security Toothbrushes
The first product in the Secure Care suite of products is the OraLine Adult Security toothbrush.
The toothbrushes are 3 and 4 inches in length with 35 to 45 tufts. They come packaged in an individual, clear cellophane pouch ready for disbursement through commissary or during the inmate housing intake process. All are flexible for safety and one model comes pre-pasted.
The 4-inch toothbrush features a slightly longer, flexible handle with holes to prevent it from being filed into a shank.  An additional inch on the handle allows easy access to the whole mouth and helps diminish ongoing infection control issues.
To provide additional safety and security, the flexible handle provides a 2-component design that discourages molding.
The 4-inch security toothbrushes are designed for long-term use (4-6 weeks), with soft rounded bristles that provide a safe, high-quality, cost-effective alternative to brushes that last 4-5 days.
Toothpaste
OraLine Secure Care offers several different sizes and packaging options for its ADA-approved fluoride toothpaste/tooth gel.
The tooth gel is available in clear plastic tubes to prevent the hiding of contraband and eliminate the aluminum in laminated tubes. The quality assurance of this USA-made product eliminates the fears of correctional toothpaste scares from overseas-manufactured products, a problem historically.
Clear tooth gel tubes come in 1 oz./144, 3 oz./72, 4.6 oz./24 and 6.4 oz./36 packs for indigent and commissary distribution.
Dental Floss
OraLine also offers several types of dental floss developed for safe use by inmates.
A single-use nylon dental floss packet with no plastic packaging offers a limited-length, single-piece application. A longer-term option is the transparent plastic case designed to minimize contraband hiding places in high-security units of a jail facility. It holds 12 yards of waxed floss.
Another option is U Floss. Originally designed in collaboration with Los Angeles County jail staff, the flexible U Floss increases safety while encouraging effective preventive oral care habits for inmates. The U-shaped design eliminates the sharp pick on standard hand-held flossers. Instead of rigid plastic, it is manufactured with materials that bend and also are resistant to modification through melting or sharpening.
The OraLine Secure Care product line of hygiene products meet the needs for quality, cost effectiveness, safety and security for the correctional environment, helping solve the complex issues associated with providing safe hygiene products to incarcerated populations. 

Request information from Oraline
Thank You!