Delta Tactical Company Profile
---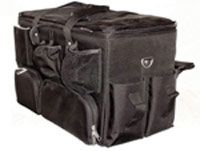 Delta Tactical is operated by two active working street cops who are on the job everyday. Combined we have over 30 years of street law enforcement experience. We understand and know the dynamics of the working street officer and how important quality, organization and safety are to our brother and sister officers. Both of us have moved through different jobs including patrol, tactical, investigations and narcotics. Regardless of assignment, the requirement for quality equipment has never changed.
Every officer knows our responsibilities have increased and the department budgets have decreased. Since the purchase of equipment has become our responsibility, why spend your money on questionable products that you need to replace every few years? One look at this bag and you can easily see it''s made for working cops. We don''t make it in desert camouflage, olive drab or any other "paramilitary" color. We didn''t need a "Command Center" or "Gear Bag" that sits in the trunk of a squad car and rarely sees the light of day. We work every day, 24/7/365. We need equipment that does the same.
To ensure a consistent, high-quality product, we have teamed with a leading luggage manufacturer to manufacture the Ultimate Patrol Bag. The Ultimate Patrol Bag has set a new standard of quality in law enforcement. Delta Tactical will remain committed to bringing our brother and sister officers the highest quality in law enforcement equipment. Delta Tactical, Made by Street Cops for Street Cops.