Otterbox cases offer robust smartphone protection
OtterBox, with their heavy-duty Defender Series cases, has created a level of smartphone protection that will keep your mobile device well protected
---
By Drew Johnson
Corrections1 Staff
With each new iteration of the iPhone, iPad, Blackberry or Android phone, consumers are faced with the same question: "How will I protect this device from the drops, falls, bangs, dings, and scratches that inevitably arise from daily use?"
That is even more relevant for first responders who, with the ever-growing use of police, fire, and EMS apps, are becoming increasingly dependant on these pocket-sized computers to assist with their jobs.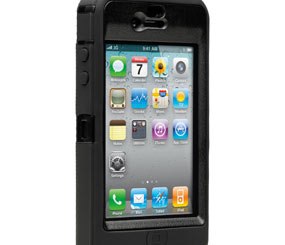 For civilians, a broken smartphone means an interruption in their quest to defeat Angry Birds. For first responders, a broken smartphone could mean lost time, or a call for help that never makes it out.
OtterBox, with their heavy-duty Defender Series cases, has created a level of smartphone protection that will keep your mobile device well protected through month after month of heavy-duty daily use.
OtterBox sent me a Defender Series case to try out with my new iPhone 4, but they also manufactures models for Blackberry, Motorola, Nokia, Samsung, HTC, and LG smartphones, as well as the Apple iPad.
The effectiveness of the Defender Series comes from its layered design. Instead of a simple plastic or rubber case that clips around your phone, the Defender has several layers of protection to keep the phone safe from drops and scratches.
The first layer is a polycarbonate shell that clips snugly around the phone. A plastic membrane on the front of the shell offers durable screen protection, making an adhesive screen protection film unnecessary.
Installing the shell took less than a minute and, once in place, it felt totally secure; pulling on the front and back of the case didn't offer any give.
Surrounding the base shell is a silicon cover that smoothes over the base layer's hard edges and creates another level of shock protection. The silicon layer has flaps that cover all the iPhone's ports and clip securely shut, but can easily be pulled open for access to the charging port, headphone jack, and volume buttons.
With the first two layers in place, the protected iPhone then clips into a polycarbonate holster that holds the device face in or face out.
The holster is, essentially, a case for your case, and with the phone clipped into all three (polycarbonate shell, silicone layer, and holster), the phone feels extremely secure.
It's bulky, but not overly so, and for the day I wore it clipped to my belt it never felt intrusive or uncomfortable. Cops, firefighters, or EMTs -- who are used to having gadgets hanging from their utility belts -- won't notice the added bulk.
But the real question when it comes to smartphone cases is: How far can you drop it?
I tested it for myself, dropping my Defender-wrapped iPhone from waist height, and then chest height. No damage whatsoever. I was tempted to drop it off our balcony, but the memory of replacing the glass backing of my iPhone a few months ago stopped me.
I asked OtterBox' Public Relations Specialist Kristen Tatti about the case's dropping capability, and she said their rule is "Three feet to concrete," meaning you can drop it from your pocket without risk of damage.
Tatti added that local firefighters in Fort Collins, Colorado, (OtterBox' home) have been outfitted with the cases, and all have raved about the Defender's durability.
With all the aspects of your job you have to worry about, the safety of your mobile device shouldn't be one of them.
"[Responders] say it's nice to have something sturdy so they don't have to worry about their phones," she said.
OtterBox also makes lines of cases more sleek than the Defender, including the "Commuter" (a simpler polycarbonate and silicone combination) and the "Impact" (just a silicon shell). Visit OtterBox' website to learn about all their smartphone and tablet cases.