OPTI-LUX 365 is a compact, lightweight flashlight for CSI
Anodized aluminum body is designed to last through years of heavy use with minimized corrosion
---
By C1 Staff
Spectronics Corporation's OPTI-LUX 365 UV-A LED inspection flashlight is a compact, lightweight flashlight aimed at reducing user fatigue during crime scene investigations.
Producing a beam that covers an area of 2.5 inches in diameter at a distance of 15 inches, the flashlight is meant for both crime scene photography and viewing samples during an investigation.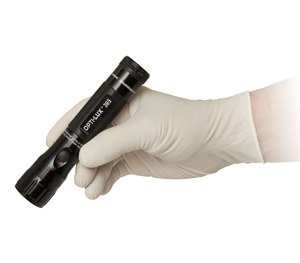 The flashlight is powered by a lithium-ion battery, which is rechargeable, and includes two batteries within the set. Its anodized aluminum body is designed to last through years of heavy use with minimized corrosion.
Also included with the flashlight is a lanyard, belt holster, two-position charging cradle with AC and DC power cords, and UV-absorbing spectacles.
For more information, visit Spectronics Corporation.