Streamlight's New Stinger LED - High Intensity Light in a Compact Package
By Sheppard W. Kelly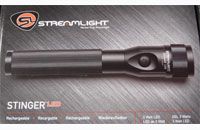 Over the last several years, Streamlight has made dramatic improvements and changes to an already extremely functional and sturdy array of light system options. Beginning with a redesign and introduction of their Tactical and Twin Task series of lights, (reviewed by The Police Marksman) Streamlight has now introduced an extraordinarily compact and very efficient LED light called the Stinger. This rechargeable light system has the following features:
Super Hi Flux LED
20,000 Hour LED
80 Lumens
Deep-dish parabolic reflector
Machined aluminum
Up to 6.75 hours continuous run time
8.41" length
Weight - 12.4 oz.
Like all Streamlight products, the aluminum tube is hard anodized against corrosion, and this model comes with a very welcome anti-roll ring that can be attached to the head, allowing the operator to place the light on a surface and not have to worry about it rolling away at an inappropriate time.
Streamlight's Stinger has a unique light control system that provides three variable lighting modes and a strobe mode-the latter is something that is uniquely suited for law enforcement use. By depressing the operating switch once, the light turns on to full intensity. By pressing and holding the switch, the operator can cycle through various brightness levels and a quick 'double click' of the switch will active the strobe mode.
I've had my Stinger for about four months, and wished I'd had this unit when still in law enforcement. It is compact, yet extraordinarily powerful. Like all Streamlight products, it comes with their "no excuses" warranty for a lifetime of use.