Gear Favorites: A quick look at some offerings from Gerber
By Dave Spaulding
Click here to subscribe to Law Officer Magazine
Dave Spaulding, Law Officer's Firearm's columnist and a 28-year law enforcement veteran, provides his recommendations of tried-and-true gear from Gerber.
When I was a rookie deputy sheriff, money was tight and department-issued equipment was spare. Not long after I hit the street, I was dispatched to an accident on a country road. The vehicle lay on its top in a gully with an intoxicated teenage female trapped inside. Gasoline leaked from the car, and the young woman was hysterical, screaming that the car was exploding. I couldn't release her jammed seat-belt buckle, and I didn't have a knife to cut the belt. After the medic unit arrived and removed the young woman, one of the paramedics asked, "Why didn't you cut her out?" I replied, "I didn't have a knife." Astonished, he said, "Boy, that's dumb. I'd get one." Lesson learned.
My wife offered me one of our steak knives to keep in my cruiser. When I said I wanted one of the better-known folding knives, she asked, "How much?" An argument ensued. Gerber Legendary Blades' high-quality but budget-priced knives brought about a truce, and I've been fond of Gerber gear ever since. Today, Gerber is still going strong, making top quality, but reasonably priced gear for the military and law enforcement. Check out a few of my recommendations.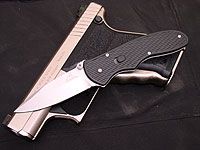 FAST Draw Folding Knife
The FAST Draw folding knife relies on Gerber's proprietary blade-opening technology (Forward Action Spring Technology) making it so quick and easy to use the uninformed will think it's an auto-opening knife. The knife doesn't open with the push of a button-you either push on the thumb stud or use the index-finger flipper to start the spring action. For those agencies that forbid auto-opening knives, the FAST Draw will work just as fast, but won't violate policy. The FAST Draw's 3" blade length is optimal for a daily-carry knife, and its 4.2" closed length and 3.6-oz. weight make it compact and easy to carry. The belt clip holds the knife blade down and deep in the pocket. With a day's worth of practice, you can draw the FAST Draw fast enough to be a viable backup weapon or life-saving tool. At less than $50, the FAST Draw is a no-brainer.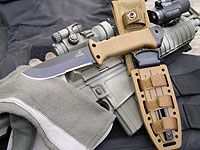 LMF II Survival Knife
I keep my LMF II in the glove box of my truck for those times when the FAST Draw is just not enough knife. While this 10" sheath knife was intended for behind-the-lines survival, it will easily fit into the patrol officer's tool box as an everyday cutting or last-ditch extraction tool. During a recent operation in Iraq, a sniper with the 3/7 Cavalry used the knife to cut through a 220-watt power line when enemy forces turned on the lights. The LMF II quickly turned them back out.
The partially serrated drop-point 4.84" blade is coated with a black rust-resistant finish. The grip material is a glass-filled nylon with a TPV (thermoplastic) over-mold to limit blistering during heavy use. A complete separation between the tang and butt cap helps absorb shock in the event the tail cap is needed as a make-shift hammer. (Once I used the tail cap to break out the window on a junk car.) A low-profile nylon/synthetic sheath holds the knife firmly in place with a tang tension device. It virtually eliminates noise, and you can attach it to a belt, molle or SWAT-type vest.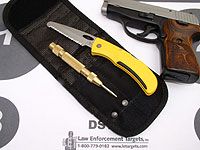 E-Z Out Rescue Knife
The ability to punch out a window and cut a wide variety of materials quickly and easily is important to any first responder. While many officers will say they rely on their baton to bust out window glass, such a tactic will never be as clean and efficient as using a spring-loaded window punch. Once inside, the same tool's ability to saw through seat belts, plastic, vinyl, metal or fabric is worth its weight in gold when only a few seconds is the difference between life and death. Gerber offers this quick and easy knife in a convenient nylon. The folding saw blade has a sharp serrated edge with a blunt tip to prevent accidental punctures.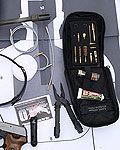 Gun-Cleaning Kit
Produced in collaboration with Otis Technology, the Law Enforcement Pistol/Rifle/Shotgun cleaning kit may be the best weapons-cleaning kit ever developed. At press time, these kits are on back order because every kit in the Gerber line is going overseas to our troops on the front lines, where they are very popular. Compact enough to carry in a belt, vest or cargo pocket, the black nylon pouch includes a Multi-Plier 600 multi-tool, an Ultra Infinity mini LED flashlight, Otis Technology "pull-thru" gun cleaning cables and brushes for all barrel lengths of firearms commonly found in the law enforcement arsenal, traditional rods and brushes, Break-Free CLP solution and a bore light. While the Gerber cleaning kit is not as cheap as the gun cleaning kit you'll find at Wal-Mart, keep in mind what you get in this kit will last an entire career.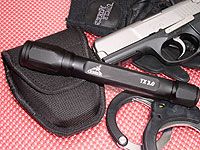 TX 3.0 LED Flashlight
While not bright enough to use as a fighting light, if you need a light for a long period of time, such as during an evidence search or looking through the woods for a lost child, the Gerber TX 3.0 LED is a reasonably bright, but long-lasting light source. This anodized aluminum LED flashlight offers 51 lumens of white light with no dead spots in the middle of the beam. The end-cap switch offers constant-on and momentary modes, and the matte-black light body has an anti-roll configuration.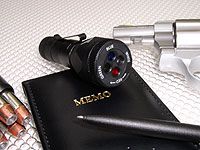 Recon Light
Not all light sources used in law enforcement operations are eye-blinding tactical lights. We require some to be deliberately dull to protect night vision or look for blood-splatter patterns. The Gerber recon light uses DIAL (diode illumination adjustable lens) technology to offer four different light colors with a turn of the dial on the head of the light. Use white for general close-quarter lighting needs, such as looking for a keyhole or searching through the glove box. Use red for preserving night vision, blue for looking for body fluids and green for map reading. The Recon is intended for those situations in which you need light but wish to keep your lighting signature low so you don't reveal your presence.