Galco Gunleather Partners With Viridian Green Laser Sights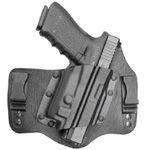 PHOENIX, Ariz. - Galco Gunleather is excited to partner with Viridian Green Laser Sights to introduce the extremely popular KingTuk™ inside the waistband holster to fit Glock pistols with attached Viridian C Series products!
This new KingTuk variant also includes built-in, patent-pending ECR technology which instantly and automatically activates the light/laser as the pistol is drawn, without fumbling for buttons or modifying the shooting grip.
Explosively popular since its initial introduction in 2010, the patented* KingTuk IWB reigns supreme in comfort, speed and versatility! The hybrid design provides the best of both worlds: a comfortable backing plate made of lined saddle leather with Napa leather front, combined with a rigid Kydex® holster pocket for a fast draw and easy holstering.
The KingTuk's removable metal belt clips (fitting belts up to 1 ¾") can be moved up or down in the corresponding holes in the leather, enabling the user to set the carry height and angle to suit their unique preferences. Optional, interchangeable injection molded nylon C-Hooks – fitting belts up to 1 ¼" and sold separately – are also available. The C-Hooks offer an even lower profile on the belt, and enhance the KingTuk's already excellent concealability!
Planned future fits include the popular S&W M&P and Springfield XD pistols. Available exclusively through Viridian, with further information available at ViridianGreenLaser.com.
About Galco Gunleather
Galco is a major force in real-world firearms usage. Galco's array of law enforcement products ranges from concealment holsters to rifle slings approved by the National Tactical Officer's Association. 'Like' Galco on Facebook and visit the official website.