4 key safety tips for inmate transport
After the shocking murder of two Georgia COs during an inmate transport, corrections professionals should review policies and procedures
---
When news about the escape of two Georgia inmates came across the airwaves and frontline staff was notified of the murder of two heroes, corrections officers Christopher Monica and Curtis Billue, I was shocked. You were probably asking the same questions I was. 
How could this happen? 
Were the inmates secured? 
Were their restraints double-locked? 
Was the fence secured? 
Were the officers alert?  
Were they wearing their equipment?
How did both officers get overwhelmed at the same time?
Was there a chase vehicle? 
All of these questions need answers, but until the investigation is complete we need to do our best to understand what happened that horrible day and review policy and procedure for inmate transport.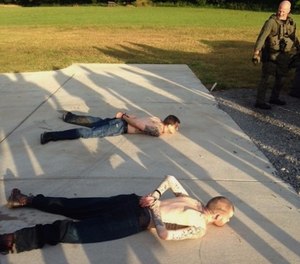 In the wake of this tragedy, please be mindful of this advice for inmate transport, avoid complacency and train, train and retrain.
1. Inspect the transport vehicle
First, check the transport vehicle thoroughly for contraband, both inside and underneath the vehicle. This should be done both before and after transport. Keep a checklist of what was inspected and who completed the inspection.
Make sure to check all areas that are within reach of the inmates being transported, such as gates, window, seats and walls. All entry and exit points – windows, gates, doors – should be checked and double checked to ensure proper functioning, as well as looking for any loose material the inmates can use as a weapon or tool.
2. Secure inmates per policy
Remember, before applying any form of restraint on an inmate, they should be stripped searched and scanned for any form of contraband.
Even though there is no national standard on the securing of an inmate for a transport, please be mindful that all inmates should be secured during a transport. The best way is high-security locks with a pick proof system, including leg irons. If high-security locks are not feasible, inmates should be restrained with leg irons, a chain running up to belly belt and hand restraints placed in front. Never transport an inmate with their hands restrained behind them. In case of an accident during transport the inmate has some maneuverability to protect their face.
Before and after restraining the inmate the officer needs to make sure that all locking mechanisms are working properly. Never forget to double lock.
For high-security inmates use the black box, which is a handcuff cover protecting the key hole. The black box prevents the offender from picking or tampering with any parts of the lock. This protective device is made from high-strength, high-impact ABS plastic.
The black box is placed over the lock apparatus that runs between the prisoner's handcuffs and is situated between the hands forcing them in parallel positioning. A chain runs through the box, encircles the prisoner's waist, is tightened and then locked so that the prisoner's hands, restrained by cuffs and the black box, are pulled against the stomach. The black box is worn in conjunction with handcuffs, waist chain and leg irons.
3. Follow staffing, equipment requirements
There are many types of trips – prison-to-prison transfers, county-to-state facility transfers, court appearances and medical appointments – that remove an inmate from a secured facility into the custody of the transport crew. The ratio of officers-to-inmates may be set by the agency or the transportation unit.
For the officers who are assigned to an inmate transport, be prepared for what the day may bring. The start of the day may vary and can stretch between eight to 12 hours so officers should be well rested and energized. Transport officers are part of a team and may consist of anywhere between two to four officers.
Officers must make sure that all of their equipment – use-of-force options and protective gear – is accounted for and in working order. Depending on the state or county, officers should have at the ready hook ups – cuffs, belly chain and leg irons – that equal their vehicle capacity, as well as two spares.
In order to maintain situational awareness, officers should also have at the ready the proper paperwork for each inmate – face sheet, recent photo, history, body receipts and special alerts. In addition, officers need log sheets, mobile and portable radios, fire extinguishers, first aid kit, nitrile gloves, flex cuffs and hand sanitizer. If inmates are being picked up from the county jail in a county-to-state transfer, jumpers should be made available so the inmate can change into the proper clothing.
Make sure all radios are in working order and properly charged. Make sure the antennas are free from defects and cracks so proper transmission can go out and be revisited. Remember, if the officer needs assistance, they may have only one chance to call for help.
Officers must remember they are not only responsible for their own well-being, but also the well-being of the inmates they are transporting and the public at large. While the inmates are in their charge, they must ensure that the inmates are not carrying any contraband. If they receive inmates from another source county facility, they are to strip search those inmates and use electronic equipment to check for any hidden contraband. Then the officers must secure those inmates with the appropriate hookups. 
Officers are not to move inmates unless the proper order has been provided. The transport officers also must be aware of pertinent information related to the inmates they are transporting, such as:
Where does the inmate's family reside?
Is the trip going to bring that inmate in close proximity to family and cause an issue?
Are there "keep separate" statuses between any of the inmates within their transport vehicle?
Are there any special medical or health considerations that must be taken into account when transporting the inmate? 
4. Deter escape ideation with a chase vehicle
Chase vehicle policies and procedures vary from state to state, but it's a good practice to employ a chase vehicle with an additional officer or two when more than 12 inmates are being transported. A chase vehicle can add an extra set of eyes to the transport, assist in moving the inmates and respond to any emergencies that may arise from that transport.
Finally, officers must remain vigilant at all times during a transport. They must be alert to the inmates in their charge as well as their environment. Once the inmates are secured in the transport vehicle the locked gates that separate the inmates from staff are never to be opened until reaching an approved destination. Locked gates are only opened under the same security measures that were utilized to place the inmates into the vehicle. If an emergency happens a change in plan must come from the direction of the supervisor in charge.
Stay alert and stay alive. Policies and procedures for inmate transport are based on the successes and failures of past incidents.

Request product info from top Corrections Restraints companies
Thank You!