Jail phone calls, video visits lead to 10-year prison sentence for Wash. fentanyl dealer
The investigation into the fentanyl dealing ring included several hundred phone calls and video visits made from a federal prison
---
By Annette Cary
Tri-City Herald
KENNEWICK, Wash. — A Tri-Cities man has been sentenced to 10 years in federal prison after recordings of jailhouse phone calls and video visits led to his arrest related to dealing fentanyl.
In one video, Jerrod Justin Hale, 44, was seen in a hotel room tossing a large handful of cash into the air. The only denominations visible were $100 bills, according to court documents.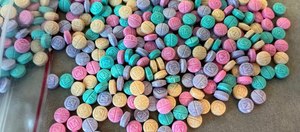 He pleaded guilty to conspiracy to distribute 400 grams or more of fentanyl and being a felon in possession of a gun.
He also was sentenced by U.S. Judge Edward Shea to three years probation after serving his prison sentence.
Hale was an associate of Jonathan Scott Ard, who was sitting in his car in a Richland neighborhood smoking a fentanyl-laced pill in December 2020 when a man came along and slashed the tires, unaware that Ard was in the car.
Ard pulled out a gun and shot the stranger in the knee before going into his home. Law enforcement officers seized a large quantity of fentanyl from his home.
Ard was sentenced in March to 12 years in federal prison.
While Ard was in jail after his arrest related to the shooting, he talked on a recorded phone line with Hale, including a discussion about picking up a package that was supposed to contain 1,000 fentanyl-laced pills.
In another call, an apparent drug customer complained to Ard that Hale was charging too much at $10 per pill.
The investigation into the fentanyl dealing ring included review of several hundred phone calls and video visits with multiple people, according to court documents.
Hale was arrested in a guest room at the former Best Western Plus Hotel at 1515 George Washington Way in Richland in March 2021.
He and two other defendants in the case had been seen meeting at the hotel. In the guest room law enforcement seized a .38 caliber pistol, $8,800, Hale's wallet and more than 500 fentanyl-laced pills, plus oxycodone and methamphetamine.
According to court documents, Hale grew up in the Tri-Cities in extreme poverty, scavenging burgers from a dumpster at a fast food restaurant and selling his mother's prescription pain medicine on the street with her encouragement.
The now-father of three played football for Kennewick High School. Although he did not graduate from high school, he later completed three semesters at Columbia Basin College in Pasco.
He requested participation in a drug abuse program in prison.
Also sentenced earlier in the case in addition to Ard were Jasmine Rae Campbell, who was sentenced in March to time served and five years probation, and Jordin Lemus, who was sentenced to five years and three months in prison and five years probation.
___
(c)2023 Tri-City Herald (Kennewick, Wash.)
Visit Tri-City Herald (Kennewick, Wash.) at www.tri-cityherald.com
Distributed by Tribune Content Agency, LLC.
McClatchy-Tribune News Service

Request product info from top Corrections Inmate Visitation & Communication companies
Thank You!