Jammerfun's portable Wi-Fi Signal Jammer provides security
The jammer is great for blocking cell phone connections ranging from 3G, 4G, Bluetooth, WiFi and more
---
By C1 Staff
Jammerfun recently unveiled a new portable signal jammer designed specifically for cell phones. The jammer focuses in specifically on 3G and 4G signals, and will even block Bluetooth connections.
The jammer outputs 4W power and comes with 8 antennas. It offers a shielding range of up to 20 meters, depending on the signal strength in the given area.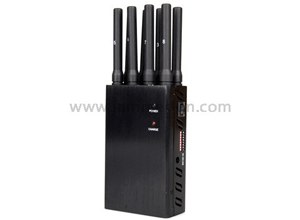 It will block all specified signals within that range, including CDMA/GSM, DCS/PCS, 3G, 4G LTE, 4G Wimax, WiFi, Bluetooth, and GPS.
The unit also features selectable jamming settings; users can turn off any single band without influencing the other bands' operation. All TX frequencies are download only and won't affect uplink station signals.
The device is built with an interior cooling fan to ensure that there's no malfunction due to overheating.
For more information, check out Jammerfun.com.

Request product info from top Corrections Inmate Visitation & Communication companies
Thank You!