PRESS RELEASE
Lieutenant Brian Murphy Receives Medal of Valor
---
WHITE HOUSE, WASHINGTON D.C. – Lieutenant Brian Murphy, a 2012 Armor Express 'save', and now Manager of the Armor Express Saves Program – was honored with the Public Safety Officer Medal of Valor during a national ceremony at the Eisenhower Executive Office Building – Wednesday, February 11th.
Brian Murphy was the first responder to the Sikh Temple massacre of 2012 and engaged the assailant head-on, ultimately sustaining fifteen handgun rounds to his body, with an additional three rounds being stopped by his Armor Express concealable body armor. Lieutenant Murphy stood between innocent men, women, and children and the brutal violence of a racist hate crime. Vice President Joseph R. Biden, Jr. and Attorney General Eric Holder presented the medal to Lt. Murphy in recognition of his valor and commitment to duty.
The Medal of Valor was established to honor public safety officers who risk their lives to protect American citizens and communities; furthermore demonstrating true valor by going above and beyond the call of duty; and exhibiting exceptional courage, extraordinary decisiveness and presence of mind, and unusual swiftness of action, regardless of his or her personal safety, in an attempt to save or protect human life (BJA.gov).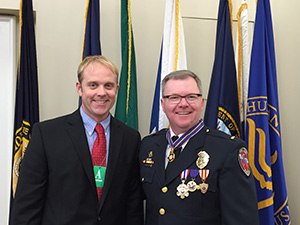 In a previous interview Brian attributed his survival following the 2012 Sikh Temple attack that left six civilians dead to his active shooter training, his innate warrior mindset to keep going, and to the ballistic armor that stopped three bullets from penetrating his body (Burger, 2014).
Learn more about the Medal of Valor recipients from yeterday's ceremony here.
Read more on Brian's role as Saves Manager here.

Request more info from Armor Express
Thank You!