PRESS RELEASE
Original S.W.A.T. Announces WILD CARD Winners, Kane County Sheriff's Dept., Kanab, UT
---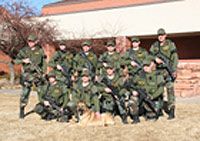 Salida, CA – Original S.W.A.T. Footwear Co. is proud to announce the winning teams in its first ever Wild Card promotion. The Grand Prize for this promotion is a guaranteed team spot at the 2007 Original S.W.A.T. World Challenge (OSWC). The winning team is not required to compete in any pre-qualifying events and no previous competition experience is necessary. Entrants were required to be on a legitimate USA-based S.W.A.T. team to be eligible. To enter, S.W.A.T. officers logged on to www.originalswat.com and registered. To win, entrants expressed, in 500 words or less, why his/her S.W.A.T. team should win the WILD CARD team slot. The judging was done by a secret panel of 7 individuals. Any names, locations, or revealing facts in the entered essays were changed so that judges did not know who the teams were or where they were located. Original S.W.A.T received entries from 17 different States.
Kane County Sheriff's Dept., in Kanab, UT was declared the winner for their excellent record of community service, teamwork and exceptional tactical skills. Detective Daniel Watson entered his team in the Wild Card promotion. About the win, Watson commented," This is a big surprise. We never expected to win. We are extremely excited about the opportunity to prove ourselves at the Original S.W.A.T. World Challenge". Det. Watson has won the following Grand Prize package for his team:
Guaranteed Team Slot at the 2007 Original S.W.A.T. World Challenge
Up to $1k in travel cost reimbursements
Prize package, including:
10 pair Original S.W.A.T. Tactical Boots
Original S.W.A.T. T-shirts and Ball Caps
ALS Technologies Flash Bang Package
Camelbak Hydration Systems
PT Armor Ballistics Resistant Vests
1 Case nuun Portable Electrolyte Hydration Tabs
Tac Wear Tactical Performance Apparel
Forrest County Sherriff's Dept. in Hattiesburg, MS came in Second Place and won 10 pair Original S.W.A.T. Tactical Boots, T-shirts and Ball Caps, plus bonus prizes from PT Armor and nuun. Third Place is Edison, NJ and they have won Original S.W.A.T. T-shirts and Ball Caps, 5 pair of Original S.W.A.T. Tactical boots, plus bonus prizes from PT Armor and nuun.
The OSWC is held at Camp Robinson, on the outskirts of Little Rock, AR on April 25 - 28, 2007. Original S.W.A.T. Footwear Company is Title Sponsor of this world's most elite S.W.A.T. competition. The competition is an invitation-only, international World Championship designed to test the mental toughness, physical fitness, and weapons skills of the world's top S.W.A.T. teams. It is recognition of a team's excellence just to be invited to participate.
The competition consists of eight grueling, live-fire events. Their descriptive names hint at the unique stresses of each task: Sniper Challenge, Masked Entry, Three-Gun Challenge, Zodiac Attack, Original S.W.A.T. Range Run, Carbine Car Assault, Pistol Shoot-Off and LEOPARD Challenge. All events are performed head-to-head, unique in S.W.A.T. competitions. Six to ten officers comprise a team. Each competes wearing handguns, full tactical gear (helmets, body armor, and LBE utility belts), shoulder-fired weapons, and in some situations, specialized equipment such as gas masks or SCBA. The shooting requirements are precise with only one round provided for each target and severe time penalties for each miss. The events are scored objectively, based on targets hit and time, with the fastest total time winning. The action is fast-paced and demanding with teams performing like professional athletes to accomplish their missions. The overall winning team of the OSWC is crowned World Champion.
Congratulations go out to Kane County, UT, Forrest County, MS and Edison, NJ, from Original S.W.A.T., ALS Technologies, Camelbak, PT Armor, nuun, and TacWear.