PRESS RELEASE
Coming Soon: Havis Docking Station for Panasonic Toughbook 54
---
Coming Soon: Havis DS-PAN-420 Series Docking Station for Panasonic Toughbook 54
With the release of the Panasonic Toughbook 54, Havis is building on our reputation as a designer of the industry's best mobile computing solutions. Maximize your productivity with this lightweight and strong design that is built with theft deterrence, longevity and stability in mind.
Learn more about the Panasonic Toughbook 54 Docking Station, here.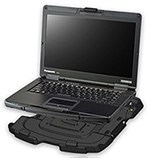 Request more info from Havis
Thank You!