7 things Sheriff Joe has done for corrections
What's your favorite thing Sheriff Joe has done for corrections?
---
By C1 Staff
If there's one name that you've heard in law enforcement, it's that of Sheriff Joe Arpaio. He's been in the news quite a lot lately, sometimes for alleged racial profiling, and sometimes for the work he's doing in corrections. Whether you agree with him or not, you have to admit that he's pushing boundaries and making his mark in the prison system. Let's take a look at seven things Sheriff Joe has done for corrections.
7. Sheriff Arpaio rewards inmates who helped female CO under attack
When CO Rachel Harris was brutally attacked by an inmate, it wasn't her fellow coworkers who immediately sprang to her rescue, but other inmates. Harris walked away from the fight with her life, and the inmates who helped ensure her survival were rewarded with pizza. Is this the beginnings of a rehabilitation program via Italian food?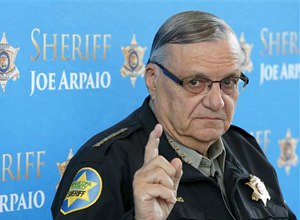 6.   Sheriff Joe wants drones to monitor prisons
UAVs, or unmanned aerial vehicles, are a quick-growing piece of tech that we could see in the skies all around us very soon. And Sheriff Joe wants to get in on the action – he told a news source that he wanted two drones, unarmed, to monitor the facilities he oversees. They would be outfitted with infrared and cameras, all the better to watch inmates with. As far as we know, Joe hasn't gotten his drones just yet, but he certainly has suggested a very interesting use for them.
5. Arpaio institutes cost-saving, vegetarian meals for inmates
Prison food isn't anything to write home about, but Sheriff Joe seems to have not just his wallet on his mind but his inmates' health. By instituting meat-less meals, Arpaio said they would save $100,000. The meals are made of soy, along with real vegetables like carrots and peas.
4. Arpaio to charge inmates for meals
And along with instituting a vegetarian menu, inmates in the Maricopa County jail system will start paying for their own food. Each inmate would be changed $1 a day for the cost of their meals. Currently there are 8,300 inmates who receive two meals a day.
3. Sheriff Joe dials back on holiday music at jails
Always thinking of others, Sheriff Joe originally ordered that holiday music would be played 24/7 during the Christmas season in order to ensure that everyone felt a little holiday cheer. After hearing numerous complaints from inmates and staff alike, Arpaio thoughtfully turned the music down to just four hours a day.
2. Ariz. sheriff puts inmates on bread, water for destroying U.S. flag
Thirty-eight inmates in six different jails were put on meals of bread and water twice daily as punishment for destroying government property while in custody. The government property they destroyed? U.S. flags that were hung in their cells. According to Arpaio, inmates tore, wrote, stepped on and threw the flags in the toilet, to name just a few of their crimes. The punishment lasted for seven days, with a threatened additional ten days for a second offense. It must have worked, because there were no further reports of flag destruction.
1. Sheriff Joe introduces segregated veterans' unit in Ariz. jail
The most recent story about Sheriff Joe is the introduction of a new jail unit specifically for inmates who served in the military. According to Joe, segregation will help keep the veterans on the right track. The cell block is painted red, white and blue, and flags from all branches of the military hang from the ceiling with military themes along the walls.
What else has Sheriff Joe done for corrections, and what's your favorite? Would you institute any of his policies at your facility? Add your comments below.