No time behind bars for imam in NYC subway plot
---
By Colleen Long
Associated Press
NEW YORK — An Afghanistan-born imam who pleaded guilty to lying to the FBI during the investigation into a suicide bomb plot against New York City subway stations will not go to prison but must leave the country within 90 days, a judge ruled Thursday.
Ahmad Afzali was sentenced to time served: four days from Sept. 20 to Sept. 24. He faced up to six months behind bars after pleading guilty last month in federal court in Brooklyn.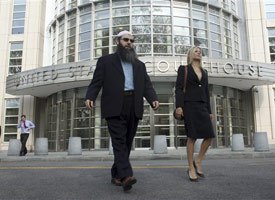 The imam said he had wanted to help authorities in the investigation of the threat but lied under grilling by the FBI about his phone conversations with admitted al-Qaida associate Najibullah Zazi. Afzali lied when he said he never told Zazi that he was under surveillance in New York.
"I take full responsibility for my actions," Afzali said in an emotional statement to Judge Frederic Block.
"Honest to God, it was never my intention to help those idiots for what they do in the name of Islam," he said, referring to the terrorist suspects.
He said he is going to spend as much time as possible with his wife, children and ailing parents before leaving. He does not expect to return to Afghanistan, where he left as a child with his family, but he is not sure where he will go.
"I'm going to start shopping around," he said outside court. "I'm sure some good country is going to host me."
If Afzali does not leave the country within 90 days, he will be deported to Afghanistan. Judge Block noted he is not allowed to return without special permission from the U.S. government, and if he does, he'll face steep punishment.
Authorities sought help last fall from the imam, a previously reliable police source, as they scrambled to thwart the plot by Zazi, a Colorado airport van driver who is the case's principal suspect.
Zazi admitted that he tested bomb-making materials in a Denver suburb before traveling by car to New York intending to attack the subway system to avenge U.S. military involvement in Afghanistan.
Two other men suspected of direct roles in the plot, Adis Medunjanin and Zarein Ahmedzay, have pleaded not guilty to charges they sought to join Zazi in what prosecutors described as "three coordinated suicide bombing attacks" on Manhattan subway lines. The alleged attacks were timed for days after the eighth anniversary of the Sept. 11 terrorism.
The plotters hoped to detonate bombs on trains at two of the city's biggest subway stations: Times Square and Grand Central Terminal, according to two officials. The officials spoke to The Associated Press on condition of anonymity because they were not authorized to discuss details of the investigation.
Prosecutors say the attacks were modeled after the July 2005 bombings on the London transit system. Four suicide bombers killed 52 people and themselves in an attack on three subway trains and a bus in London.
The alleged New York plot was disrupted in early September when police stopped Zazi's car as it entered New York.
Another suspect was recently arrested in Pakistan, law enforcement officials said Monday.
___
Associated Press writers Devlin Barrett in Washington and Tom Hays in New York contributed to this report.