Attorneys: Witness made up confession by condemned inmate
Robert Butts Jr., who is scheduled to die on Thursday, said he's "tremendously sorry" for his role in Donovan Parks' death
---
Associated Press
SAVANNAH, Ga. — Attorneys for a Georgia inmate facing execution say a trial witness has admitted to giving false testimony that the condemned man confessed to pulling the trigger in a 1996 shotgun slaying.
Robert Butts Jr. is scheduled for execution by lethal injection Thursday. He and co-defendant Marion Wilson were both sentenced to death after being convicted of murder and armed robbery in the Baldwin County slaying of Donovan Parks.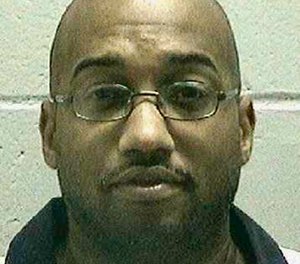 Butts says he's "tremendously sorry" for his role in Parks' death in a petition asking the state Board of Pardons and Paroles to spare his life. Butts' clemency hearing is scheduled Wednesday.
Butts' lawyers say in the document that Horace May signed an affidavit saying he lied when he told the trial jury Butts confessed in jail to shooting Parks.