Governor hints at new DNA testing in condemned inmate's murder case
Gov. Jerry Brown indicated he was considering ordering new DNA testing of evidence in four 1983 murders at the request of Kevin Cooper
---
By Bob Egelko
San Francisco Chronicle
SAN FRANCISCO — Gov. Jerry Brown indicated Tuesday he was seriously considering ordering new DNA testing of evidence in four 1983 murders at the request of a condemned prisoner, who says the findings could clear him.
Brown's legal affairs secretary, Peter Krause, stopped short of committing the governor's office to granting Kevin Cooper a reprieve that would allow re-examination of the evidence.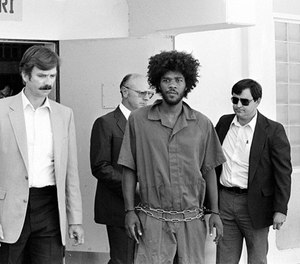 But Krause said in a letter to Cooper's lawyer that the inmate's allegations that investigators planted evidence leading to his conviction "clearly deserve the serious consideration they have received."
Krause asked defense attorney Norman Hile a series of questions, including which items he wanted tested, what he thought the tests would show and whether he had a forensic laboratory to recommend.
Krause also noted other violent crimes Cooper had been accused of committing and asked why authorities would have planted evidence against him. He asked for a written reply by Aug. 17 and said he would then give prosecutors in San Bernardino County, where Cooper was convicted, a chance to respond.
It was the first public response from Brown's office since Cooper's lawyers asked for the reprieve and new DNA testing in February 2016. It also comes less than two months after the New York Times posted an extensive article by columnist Nicholas Kristof, who pored over the case and concluded that Cooper had probably been framed.
Hile declined to comment Tuesday, saying he wanted to review Krause's letter.
Cooper, now 60, was convicted of fatally slashing a man, a woman and two children in the town of Chino Hills in June 1983, shortly after escaping from a nearby prison, where he was serving a sentence for burglary.
He is one of more than 20 prisoners in California who have lost the final court appeals of their death sentences. Their cases are on hold while a federal judge in San Francisco considers challenges to the state's untested procedures for single-drug executions.
Cooper came within eight hours of execution in 2004, when the Ninth U.S. Circuit Court of Appeals issued a stay and ordered DNA testing of a bloody T-shirt found near the victims' home. Cooper's DNA was found on the shirt, and a majority of the court reaffirmed his death sentence.
But in a 101-page dissent from the court's refusal to reconsider the case, Judge William Fletcher said Cooper "is probably innocent." Fletcher, joined by four colleagues, said the judge overseeing the case had discounted evidence of preservatives in the blood sample — an indication, he said, that officers had taken the blood from a lab and sprinkled it on the shirt in order to frame Cooper.
Fletcher also said a potential witness had told officers that her boyfriend, a convicted murderer named Lee Furrow, had worn a T-shirt like the one found near the murder scene and had a hatchet that resembled descriptions of the murder weapon. Police retrieved a pair of bloody coveralls from Furrow but later destroyed them without testing them, Fletcher said.
Cooper's lawyers contend that modern-day DNA testing would point to someone else as the killer. Krause, Brown's legal secretary, asked in his letter to Cooper's lawyer whether a DNA sample from Furrow or another alleged suspect was available.
If additional testing shows only the presence of DNA of unknown origin, which could have come from anyone who handled the materials, Krause asked, "how would such a result aid in the determination of Mr. Cooper's guilt or innocence?"
©2018 the San Francisco Chronicle