Idaho's firing squad bill surprises state prison officials after announcement
Idaho would become the fifth state to approve a firing squad as a backup to the lethal injection drug shortage
---
By Kevin Fixler
The Idaho Statesman
BOISE, Idaho — A concerted push to allow Idaho to use a firing squad for inmate executions left out a key collaborator — the agency charged with carrying out the state's death sentences.
House Bill 186 is premised on the belief that Idaho's death penalty has become toothless. State officials say drugs to perform lethal injections — the only permitted execution method in Idaho — are unobtainable. A Senate panel is expected to take up the firing squad bill in the next week after House lawmakers overwhelmingly passed it Friday.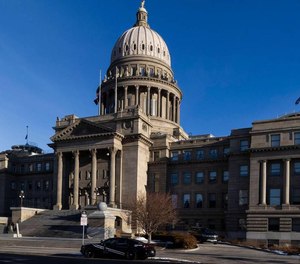 But the proposed law came as a surprise to state prison officials. They learned of the effort to restore the firing squad just days before it was publicly announced, Idaho Department of Correction spokesperson Jeff Ray said.
"It's not uncommon for us to learn of legislators' proposals until shortly before or even after they are introduced," Ray told the Idaho Statesman by email. "Being consulted about the impacts of a potential policy change doesn't imply ownership. What we own is the responsibility to implement the laws passed by lawmakers."
Over prior objection from Department of Correction Director Josh Tewalt about the concept, Rep. Bruce Skaug, R-Nampa, proposed the legislation, which would bring back the firing squad after it was removed from Idaho law in 2009. Attorney General Raúl Labrador also was "personally involved" in helping draft the bill, an office spokesperson confirmed to the Statesman.
Idaho's prisons chief did not attend to testify at last week's hearing before Skaug's committee, which advanced the bill with a heavy majority for a full House vote. But during last week's House floor debate of the bill, Skaug cited correspondence he received from Tewalt.
"Absent an actual alternative method of executions, a de facto moratorium on capital punishment exists since the current law is unenforceable," Tewalt wrote, according to Skaug. "Should the Legislature choose to adopt firing squad as an alternate method, the Idaho Department of Correction will develop policies and procedures to ensure it is implemented with professionalism, respect and dignity for everyone involved or impacted by this solemn process."
This same time last year, Tewalt argued against the firing squad while providing testimony for another execution-related bill that became law.
"I don't feel, as the director of the Idaho Department of Correction, the compulsion to ask my staff to do that," Tewalt said before the House committee, to which Skaug was a member. "I would suggest that viewing alternative methods of execution as an easier path or as a path to reduce litigation or make executions more likely is going to have the inverse result."
AG 'political stunt' creates friction
Last week on the House floor, Skaug, an attorney and former Ada County deputy prosecutor, assured lawmakers that the attorney general's office determined the bill does not violate the U.S. Constitution's Eighth Amendment protections against cruel and unusual punishment. Labrador, who acts as the state's legal representation, recently left Skaug's private law firm after about three years when voters in November elected him the state's attorney general.
"The advantages are less litigation, and, most importantly, we will be able to follow the rule of law by completing valid judgments of conviction that have been imposed for the death penalty," LaMont Anderson, a deputy attorney general who is the office's longtime chief of capital litigation, testified last week before Skaug's House committee.
Two days after the bill's introduction, Labrador, a former Idaho Republican congressman, publicly announced that he secured a new death warrant for longtime death row inmate Gerald Pizzuto. His execution by lethal injection is scheduled for March 23.
Ray didn't respond to a request for an interview with Tewalt by the Statesman. But Labrador's action caught Tewalt off-guard, according to emails between the prisons director and staff for Gov. Brad Little obtained by the Statesman through a public records request.
"The press release appears to have been sent before I was in possession of the warrant," Tewalt wrote to Jared Larsen, the governor's policy adviser and prisons liaison, explaining Labrador's decision raised safety issues for prison staff. "I'll be reaching out to the AG's office in hopes we can coordinate more closely next time."
In the press release, Labrador acknowledged prison officials lacked the lethal injection drugs needed under Idaho law to execute Pizzuto. The attorney general implored lawmakers in his statement to provide the state with another means of execution.
In a statement posted to Twitter, Robert Dunham, former executive director of the Washington, D.C.-based Death Penalty Information Center, called Labrador's obtaining of a death warrant for Pizzuto a "political stunt" intended "to create a fake emergency to push legislators to approve the pending execution-by-firing-squad bill."
An emergency clause would put the firing squad bill, should it clear the Legislature and Little sign it, into effect on July 1. The Department of Correction estimated the cost to revamp the facility needed to execute an inmate by firing squad at $750,000, but have yet to detail a possible timeline for build-out.
Little reiterated to the Statesman last month his support of capital punishment. But he noted a desire to perform executions "in the most dignified and humane manner that creates the least amount of stress" for corrections officers.
ACLU, opponents condemn bill
On the House floor, Skaug appealed to fellow lawmakers' sense of justice in pitching the alternative execution method. The state never executed a death row inmate with a firing squad, but lacking a way to secure lethal injection drugs, Skaug said not only is the method more humane, it was likely to face fewer court challenges.
"I realize that this is a heavy thing to think about," Skaug said during floor debate. "But this is the law of our land and we have to carry out the executions as a matter of law, or it's like any other law we pass and then we don't carry it out. This must be carried out for the sake of the victims, who are no longer with us, and the families of the victims, and for the rule of law we all hold true."
House lawmakers passed the bill in a 50-15 vote. Republicans made up all 50 supporters, while five GOP members joined Democrats in opposition.
The ACLU of Idaho condemned the bill and its House passage. Leo Morales, the organization's executive director, told the Statesman in a phone interview that defeating the proposed law is a top priority this legislative session, given the ACLU's fundamental opposition to capital punishment.
"Every method of execution carries an intolerably high risk of extreme pain and torture," Morales said, "and there is no method of killing a human being that is consistent with our constitutional protections against cruel and unusual punishment."
Rep. David Cannon, R-Blackfoot, a criminal defense attorney, was one of the five House Republicans to oppose the bill. He said he believed issues around acquiring lethal injection drugs would be resolved, and balked at the amount of taxpayer money needed to develop Idaho's ability to execute by firing squad.
"I foresee a fairly likely scenario where we pay for, build, maintain and pay for maintenance over an extended period of time," Cannon said, "and perhaps never put that facility to use, and that gives me pause as a fiscal conservative."
Idaho would become the fifth state in the U.S., including neighboring Utah, to approve a firing squad as a backup execution method. Tennessee also is presently trying to pass a similar bill.
South Carolina was the last state to add the firing squad, in 2021. The law is stuck in legal limbo, after the state's supreme court kicked it back to a lower court to review whether prison officials have worked hard enough to find lethal injection drugs. The lower court ruled last fall that the state's alternative execution methods of a firing squad or electric chair were unconstitutional.
Rev. Hillary Taylor, executive director for South Carolinians for Alternatives to the Death Penalty, testified during the House committee hearing last week against Idaho's comparable plan.
"Take it from me. If this bill passes, it will only bring frustration to your state legislature and your judicial system," Taylor said, detailing the public money spent on a firing range facility it can't currently use. "My state wasted the average teacher's salary for one year to create a facility it can't even use yet — and may never be able to use at all."
Meanwhile, the four Idaho House Democrats who debated against the bill focused their arguments on the brutality of a firing squad, if the method is even legal. Rep. Lauren Necochea, the House assistant minority leader, for example, pointed lawmakers back to the 2009 law that passed almost unanimously to repeal Idaho's firing squad, based on possible constitutional challenges.
"When people commit atrocities, they have to account for those. That's why we have the justice system," said Necochea, D-Boise. "But we need a system that's also humane and operates within the bounds of our constitution. I actually believe that rather than bringing expediency to our executions, this new option could ensnare us in lengthy litigation and probably more delays in carrying out death sentences."
Rep. Colin Nash, D-Boise, an attorney, put it more bluntly.
"I don't trust the government to maintain my sidewalks; I don't trust the government with the death penalty in deciding who lives or dies," he said. "There is no dignified way to take another person's life, and I cannot in good conscience ask our state employees to carry this out."
©2023 The Idaho Statesman.
Visit idahostatesman.com.
Distributed by Tribune Content Agency, LLC.
EARLIER: Idaho bill would bring back execution by firing squad
McClatchy-Tribune News Service