Nev. court OKs execution, rejects challenges on procedure
Nevada prison officials got the go-ahead Thursday to execute the state's first death-row inmate in 12 years
---
By Ken Ritter
Associated Press
LAS VEGAS — Nevada prison officials got the go-ahead Thursday to execute the state's first death-row inmate in 12 years, after the state Supreme Court ruled that defense lawyers and a rights group used the wrong process to try to stop the lethal injection.
Justices sidestepped the question of whether the state should use a never-before-tried combination of drugs that prison officials drew up for the execution of Scott Raymond Dozier.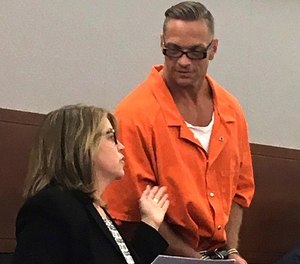 The protocol includes a powerful painkiller that is fueling much of the nation's opioid epidemic and a paralyzing drug that could mask any signs of trouble.
The American Civil Liberties Union argued the drug is not legal to use for euthanizing pets in Nevada.
"Although we recognize the importance of this matter, both to Dozier and the citizens of the State of Nevada, the fact that this case has serious implications was all the more reason to follow established rules and procedures," the court said.
The blunt and unanimous order came just two days after the seven justices heard oral arguments in Carson City.
The ruling sends the case back to a state court judge in Las Vegas who blocked the execution last November and orders her to issue a new warrant for Dozier's execution.
Dozier, 47, has been on death row since 2007 for convictions in separate murders in Phoenix and Las Vegas. He has said repeatedly that he wants to be put to death as soon as possible and doesn't care what drugs are used.
However, Dozier allowed federal public defenders David Anthony and Lori Teicher in Las Vegas to challenge the three-drug protocol developed for his execution by the state's top doctor and prison officials.
None of the drugs the state was able to obtain — the sedative diazepam, the painkiller fentanyl and the paralytic cisatracurium — has been used for lethal injections in any executions before. Diazepam is commonly known as Valium. Fentanyl is a synthetic opioid that has been blamed for overdose deaths nationwide.
Many states have struggled in recent years to find drugs that pass constitutional hurdles after pharmaceutical companies and distributors banned their use in executions.
Anthony and Teicher did not immediately respond to telephone and email messages about the court ruling.
Dozier would become the first person put to death in Nevada since 2006, when Daryl Mack asked to die after his conviction in a 1988 rape and murder in Reno.
The high court said Thursday that state Judge Jennifer Togliatti abused her discretion by considering a challenge of execution-protocol in the Dozier case that had not been properly lodged before the court.
Jonathan VanBoskerck, a chief deputy Clark County district attorney who argued the case for prosecutors, said additional legal challenges could still be filed in state or federal courts using different procedural grounds.
ACLU of Nevada Legal Director Amy Rose said she stands by her arguments that it would be unconstitutionally cruel and unusual punishment to use cisatracurium in Dozier's execution.
Dozier also used the name Chad Wyatt. His death would mark the first lethal injection since a new execution chamber was completed in 2016 at Ely State Prison, 250 miles north of Las Vegas.