Nev. sets 1st execution since 2006 after fight over drugs
Scott Raymond Dozier, who's been on death row since 2007, is scheduled to die July 11
---
By Ken Ritter
Associated Press
LAS VEGAS — Nevada plans to carry out its first execution in 12 years using a never-before-tried combination of drugs that drew a court challenge over concerns that a convicted murderer could suffer during the lethal injection.
Scott Raymond Dozier is scheduled to die July 11, Department of Corrections spokeswoman Brooke Santina said Wednesday, a day after a judge in Las Vegas signed the death warrant.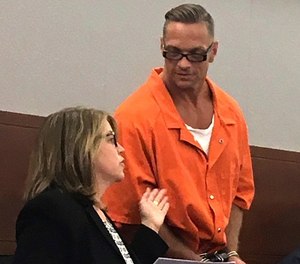 The state Supreme Court decided last month not to stop the execution on procedural grounds, despite challenges by lawyers and a rights group who argued that the procedure would be less humane than putting down a pet. There also were concerns that some of the state's drugs would have expired.
"We have what we need to complete the execution order," Santina told The Associated Press. "The same three drugs. We have some that are not expired."
Dozier's death warrant was signed by Clark County District Court Judge Jennifer Togliatti, who last November blocked the execution over concerns that one drug in the three-drug protocol would immobilize the inmate and mask any signs of pain and suffering. The warrant didn't address her previous concerns.
Batches of the disputed muscle paralytic, cisatracurium, began expiring April 1, but Santina has said the state had supplies that were good until Nov. 30.
The sedative diazepam, the powerful painkiller fentanyl and cisatracurium have never been used for lethal injections in any state. Diazepam is commonly known as Valium. Fentanyl is synthetic opioid that has been blamed for overdose deaths nationwide during an opioid epidemic.
An American Civil Liberties Union of Nevada official called for Gov. Brian Sandoval or prisons chief James Dzurenda to stop the planned execution until questions about the process and drugs are answered.
"The (state) Supreme Court never decided whether Mr. Dozier would experience extreme pain, or if he would suffocate to death, or if this protocol is constitutionally adequate," ACLU legal director Amy Rose said Wednesday. She conceded that her group didn't have legal standing to act on Dozier's behalf unless he asks for it.
Santina said prisons officials "have a court order and it is our duty to carry out that order."
Dozier, 47, has said he wants to die and doesn't really care if he experiences pain. But he did let a team of federal public defenders challenge the drugs and method that Nevada prison officials planned to use.
Those attorneys, David Anthony and Lori Teicher, did not immediately respond to messages.
Sandoval spokeswoman Mary-Sarah Kinner said the Republican governor "does not have the unilateral authority to offer a pardon or commute a death sentence."
State law lets the governor stay an execution up to 60 days after a sentence is handed down. After that, decisions are made by the state pardons board made up of the governor, Supreme Court justices and attorney general.
An aide to Republican state Attorney General Adam Laxalt referred calls to prisons officials.
Nevada and other states have struggled in recent years to find drugs after pharmaceutical companies and distributors banned their use for executions.
Dozier has been on death row since 2007 for convictions in separate murders in Phoenix and Las Vegas. He has said repeatedly that he wants to be put to death as soon as possible and doesn't care what drugs are used.
Dozier, who also used the name Chad Wyatt, would become the first person put to death in Nevada since 2006. His death would mark the first lethal injection since a new execution chamber was completed in 2016 at Ely State Prison, 250 miles (402 kilometers) north of Las Vegas.
The previous execution in Nevada was in Carson City, after Daryl Mack asked to be put to death for his conviction in a 1988 rape and murder in Reno.
Jonathan Van Boskerck, a chief deputy Clark County district attorney involved in nearly a year of court hearings over Dozier's fate, pointed to the death sentence by a jury and the state high court ruling last month.
"The decision of this jury deserves respect," he said.