Oklahoma lawmakers join call for death penalty pause
The state has executed more inmates per capita than any other state since the reinstatement of the death penalty in 1976
---
By Sean Murphy
Associated Press
OKLAHOMA CITY — Three Oklahoma Republican lawmakers joined a former corrections official on Wednesday to call for a moratorium on the death penalty amid growing concerns about the state's brisk pace of lethal injections.
Rep. Kevin McDugle said he supports the death penalty but believes Oklahoma's next death row inmate scheduled to die, Richard Glossip, is actually innocent.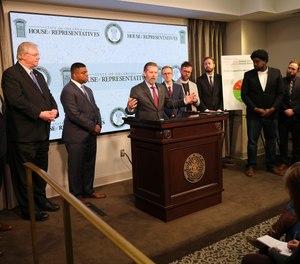 "His case is what got me involved with this, and I could not stand to see an innocent man put to death in Oklahoma, and I happen to know that Oklahomans don't want to put an innocent man to death in Oklahoma either," said McDugle, a Republican from Broken Arrow.
Glossip, who has long maintained his innocence, is scheduled to be executed on May 18 in the murder-for-hire killing of his former boss, but Oklahoma's new Attorney General Gentner Drummond has ordered an independent review of his conviction.
McDugle was joined at a press conference Wednesday by two other Republican lawmakers and says many more of his GOP colleagues support his effort. Among those requesting a moratorium was Adam Luck, an appointee of Republican Gov. Kevin Stitt to both the Board of Corrections that oversees the state prison system and the Pardon and Parole Board. Luck resigned last year after disagreements with Stitt over imposing the death penalty. Some clergy members also took part in the news conference.
Oklahoma has executed more inmates per capita than any other state since the reinstatement of the death penalty in 1976. Since that time 10 death row inmates have walked free after being acquitted at a new trial or because prosecutors declined to refile charges that were dismissed by a court.
Opposition to the death penalty, even among conservatives, is growing across the U.S., said Richard Dieter, director of the Washington, D.C.-based Death Penalty Information Center, a nonprofit that takes no position on capital punishment but has criticized the way states carry out executions.
"Conservatives have a platform for life, and life is on the line here in these cases, so it's not totally surprising," Dieter said.
Public support and use of the death penalty in 2022 continued its more than two-decade decline in the U.S., but support remains high in Oklahoma. A state ballot question in 2016 on whether to enshrine the death penalty in the Oklahoma Constitution received more than 65% of the vote.
Still, McDugle cited a recent Oklahoma poll that suggests that support wanes considerably when respondents are offered sentencing options like life in prison with or without parole.
Oklahoma has carried out eight executions since resuming lethal injections in October 2021 following a six-year moratorium after problems with drug mix-ups and a botched lethal injection in 2014.
Attorney General Drummond last month asked the Court of Criminal Appeals to slow the rapid pace of executions, which the court agreed to do.
Drummond said in an interview with The Associated Press last month that while he recognizes the death penalty is a legal punishment in Oklahoma, he wonders if families of murder victims would suffer less if their loved one's killer was sentenced to life in prison without parole.
"I wonder if the family wouldn't be able to just flip the switch and start healing knowing this guy is never coming out," Drummond said. "I talked to every one of these families, and it's like they're on an emotional yo-yo."