California judge blocks COVID-19 vaccine order for correctional officers
The temporary restraining order shields COs from discipline while the court weighs the injunction
---
By Wes Venteicher
The Sacramento Bee
        
SACRAMENTO — A Kern County Superior Court judge on Thursday granted a request from the state prison guards' union to block a vaccine mandate that was set to take effect Friday.
Judge Bernard Barmann issued a temporary restraining order that partially prevents the state from enforcing an Aug. 19 Department of Public Health order that required all employees — including correctional officers — who work in or around prison health care settings to be fully vaccinated by Oct. 14.
"What I don't want to do is I don't want to put somebody in a situation where there's something that happens to them that truly is irremediable," Barmann said Thursday, referencing vaccination in a court discussion that was streamed online.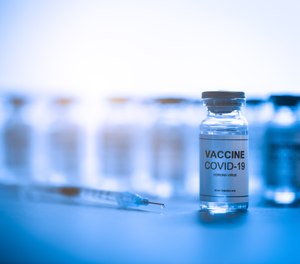 Two hundred and forty inmates and 39 prison employees have died from COVID-19. Sixty percent of Department of Corrections and Rehabilitation employees are vaccinated, according to a department website.
The state's Aug. 19 order tightened prior vaccination requirements by eliminating an option for certain employees to get tested twice a week instead of getting the vaccine.
It was one of two vaccination orders affecting prison employees. The other came from U.S. District Judge Jon S. Tigar in Oakland on Sept. 27.
Tigar's order aligned with a recommendation from federal receiver J. Clark Kelso, who oversees medical care inside California's prisons. It required the Department of Corrections and Rehabilitation to make a plan to vaccinate all prison employees within two weeks.
The department, in conjunction with the receiver, submitted a three-page vaccination plan Tuesday that would require all employees to be fully vaccinated by Nov. 29, with progressive discipline beginning Nov. 15 for any employees who hadn't received a first shot by then.
But — also on Tuesday — the department and Gov. Gavin Newsom filed a notice that the state plans to appeal Judge Tigar's ruling, leaving the requirement in limbo.
The California Correctional Peace Officers Association, which contributed $1.75 million to Newsom's recall defense, has argued against both vaccination orders in court.
In Kern County, the union is pursuing a preliminary injunction to keep the state from enforcing the Aug. 19 Public Health Department order. Barmann's temporary restraining order shields correctional officers from discipline while the court weighs the injunction. Filings are due in the injunction proceedings next week.
The union's petition asked Barmann, whom Newsom appointed to the Kern County court in December, to issue a restraining order for all affected prison employees. But Barmann issued an order only affecting employees represented by CCPOA: correctional officers and some higher-ranking peace officers who work in prisons.
  
(c)2021 The Sacramento Bee (Sacramento, Calif.)
McClatchy-Tribune News Service