2 Ark. inmates die in possible drug overdose
Official says it "would not shock" him if K2 drug was a factor in the inmates' deaths
---
Associated Press
LITTLE ROCK, Ark. — Two more inmates have died of possible drug overdoses at a maximum security prison in southeast Arkansas, a corrections official said Wednesday.
Arkansas Department of Correction spokesman James DePriest said Donovan Cobbs, 26, was found unresponsive in his cell before 6 a.m. Wednesday at Varner Supermax Unit and was pronounced dead shortly after. Less than an hour later, Joe Harris, 55, was also found unresponsive in his cell at the same unit, about 50 miles (80 kilometers) southeast of Little Rock. Harris was pronounced dead at 6:33 a.m.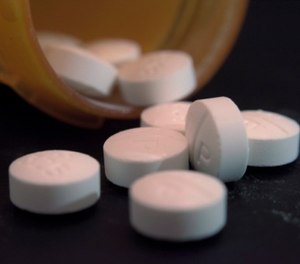 Cobb was serving 10 years for robbery and Harris was serving time for several offenses, including aggravated robbery.
DePriest said three other inmates were found unresponsive earlier this week and that they died within 24 hours of each other . There is still no official cause of death for any of those three inmates.
State Police spokesman Bill Sadler cautioned against speculating on the cause of death, but DePriest said it "would not shock" him if the synthetic marijuana compound known as K2 was a factor.
DePriest said an investigation will hopefully reveal if there was a common source for the cause of the five deaths.
In a statement, Gov. Asa Hutchinson acknowledged the ongoing investigations and said he requested that Department of Correction Director Wendy Kelley "study best practices from other states for preventing the use of K2 by inmates."
Correction officials have reported a lower rate of K2 incidents this year . Through July, DePriest said there were 468 K2 incidents, which can range from locating the drug to discovering someone under the influence, which puts 2018 to be on track for about 350 fewer than 2017.
In June, Kelley testified to lawmakers that the "vast majority" of drug-related incidents at correctional facilities involved K2. She said the department was instituting several policy and educational changes in an effort to reduce K2 incidences, which peaked at 1,136 last year.
Department spokesman Solomon Graves said K2 can be smuggled in through the mail. The agency's new mail policy limits correspondence to photocopies of the first two pages of letters, a policy Kelley called "very unpopular" in June, but which DePriest has said could be partly responsible for a decline in K2 incidences.
Prisons have also installed new body scanners, which all visitors and staff must pass through. DePriest said the department has instituted educational policies in facilities to warn inmates and visitors of the dangers of the drug.
Medical staff members are on alert in all units, DePriest said, but while overdose-reversing drugs are helpful with respect to opioids, the compounds in K2 likely would not be affected by emergency treatment drugs like naloxone.
Officials in Ohio and Pennsylvania said staff members at prisons in those states have been treated for exposure or suspected exposure to drugs . It is not clear whether the incidents in those states were related to each other, or to the incidents at Varner.