Beyond detox: N.Y. county inmates to be offered medication-assisted treatment for drug addiction
The focus of the new program will be on the use of Sublocade, which is given as a monthly injection rather than in strips
---
By Sandra Tan
The Buffalo News
        
BUFFALO, N.Y. — Erie County inmates who are addicted to drugs currently have only one avenue for treatment once they enter the county Holding Center: a detox program where they are forced to get clean in a segregated facility until they are considered stable enough to join the rest of the inmate population.
Many health and jail reform advocates, however, have opposed this practice. They say inmates are needlessly subjected to harsh withdrawal pains when addiction treatment options such as Suboxone and methadone can be administered to block the highs produced by opioid narcotics, maintain bodily function and prevent suffering.
The Erie County Legislature allocated $1 million toward the creation of a medication-assisted treatment program in late 2019, but the program was slow to take shape.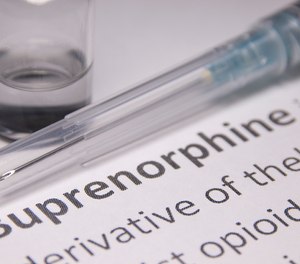 Now, nearly two years later, the Sheriff's Office and county Department of Mental Health are finally taking concrete steps to make medication-assisted treatment a reality for those behind bars.
County officials have asked for the Legislature's support to hire six new employees — two nurses, two counselors, a nurse practitioner and a discharge planner — to get the program up and running.
"It's our position to be ahead of the game, not following the curve," Mental Health Commissioner Mark O'Brien said.
The hiring request by the Sheriff's Office and Department of Mental Health comes on the heels of new legislation supported by Gov. Kathy Hochul. The bill mandates that state and local correctional facility inmates be given access to medication-assisted treatment (MAT) programs.
"We've been meeting over the last several months to get to where we are right now," said Thomas Diina, superintendent of Erie County's jails. "Had we not done that, we would be in a really tough position to fully implement an enhanced MAT program."
Currently, most inmates who show signs of drug addiction receive medical evaluations three times a day at the Holding Center. Medication is offered for withdrawal symptoms such as itching, tremors, aches and nausea, but more powerful replacement therapy drugs such as Suboxone or methadone — both of which can reduce cravings and withdrawal symptoms — are not.
It usually takes five days for men to complete the detox process, and longer for women, according to county jail officials.
Under Sheriff Timothy Howard, the county's Jail Management Division several years ago began offering some inmates the opportunity to get a shot of Vivitrol and receive counseling upon release from jail. Vivitrol is a monthly injection given to those who have successfully completed detox. The shot prevents people from being able to get high on opioids.
However, until now, the Erie County Sheriff's Office did not offer buprenorphine, known by the brand name Suboxone, or methadone to inmates even if they had been on medication-assisted treatment prior to their incarceration.
Even though the Legislature had provided the Department of Mental Health and Sheriff's Office with $1 million in the 2020 budget — which the Sheriff's Office had not asked for — it took a long time for the program to gain the political and procedural traction to move forward.
"I know it's been a little bit of a challenge over the last couple of years, due to a number of factors," said Michael Ranney, the county's former mental health commissioner who first worked on the program with the Sheriff's Office. "But I think that the direction that they're heading in is very appropriate."
Part of the Jail Management Division's concerns about the use of Suboxone is that it is administered as a thin piece of film that dissolves on the tongue and could be taken or hidden by inmates and circulated as contraband.
O'Brien said that prior to coming to Erie County, he was aware of Suboxone strips being melted down into crayons. Children's coloring pages would be passed to inmates who could scrape the color off the paper and ingest it.
But an alternate form of Suboxone, known as Sublocade, avoids that problem because it is given as a monthly injection, which is what will be used in county jails.
"You can't mess with it," O'Brien said.
Inmates will also have access to counseling services.
Other substance abuse treatment medications, including Vivitrol and methadone, will be rolled into this program, though the focus will be on the use of Sublocade in the beginning, Diina said.
Administrators said they expect the program will add $330,000 in annual personnel costs to the Sheriff's Jail Management Division and $228,000 to the Department of Mental Health. But county leaders are optimistic that some of this cost will be offset by the $5 million in state grants that Hochul has allocated to support the new legislation.
Erie County legislators praised the hiring plans to get the medication-assisted treatment program moving, with Democrats saying that they have led the state in confronting this issue of drug treatment for inmates and other criminal justice reform efforts. The Legislature is expected to approve the hiring requests Thursday.
"We should continue to do this work, stay ahead of the state and show them that we're serious in Erie County about reforming how we run our Sheriff's Office and bringing some practices that are going to create a holistic approach to restoring lives of those who make poor choices," Legislature Chairwoman April Baskin said.
   
(c)2021 The Buffalo News (Buffalo, N.Y.)
McClatchy-Tribune News Service