Cellphones, pills confiscated from Texas jail
The contraband seizure is part of an ongoing Texas Department of Criminal Justice search of facilities in the state
---
By Greg Friese
Corrections1
HUNTSVILLE, Texas — Texas Department of Criminal Justice officials announced the confiscation of cellphones, cellphone accessories and other contraband as part of an ongoing search of facilities in the state. 
According to a Facebook post, TDCJ and OIJ staff at the the Bradshaw State Jail confiscated a bag of pills, five cellphones, six chargers, eight charging cords, one wireless earbuds, four charging blocks, and one bag of trace amount of an unknown liquid substance.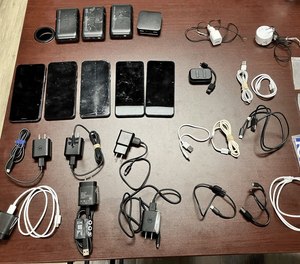 Prisons in Texas have been in lockdown because of a series of drug-related inmate homicides. During the lockdown, prison officials are increasing efforts to search for and deter smuggling of drugs and contraband into the prisons.  
Search efforts to stop contraband smuggling are ongoing and individuals will be prosecuted for breaking the law. 
Anonymous tips from the public can be shared with the toll-free tip Line at 833-371-0510.