Families of inmates protest Fla. DOC cuts to prison visitation
The families and advocates are planning to boycott the DOC's program that'll allow a private company to profit off of inmate video visitation
---
By Corrections1 Staff
TALLAHASSEE, Fla. — In response to the Florida DOC's proposal to slash in-person inmate visitation in half, families of inmates and reform advocates announced they will protest the department financially.
On Thursday, the Campaign for Prison Reform said it'll boycott the DOC's program that'll allow a private company to profit off of inmate video visitation, the Miami-Herald reports. The move comes after the DOC plans to implement a policy that cuts in-person inmate visitation from every weekend to every other weekend.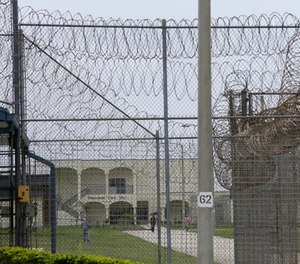 In April 2017, the DOC signed a contract with JPay to instal multimedia kiosks and tablets for use by inmates at no cost to the state. The DOC later encouraged families to visit inmates via video conferences, saying it'll be safer and easier to handle due to prison staff shortages.
The families of the state's 97,000 inmates plan to not only boycott the video visitation program, but also the JPay program used to transfer money to inmate accounts. Thompson said families will now send money via wire and bank transfers. Both the DOC and JPay charge a fee for the transactions.
"That's going to hurt in the groin, where it should,'' said Judy Thompson, director of the advocacy group Forgotten Majority.
The DOC announced the new visitation policy due to staff shortages and the continued increase of contraband into the prisons. But Thompson alleges only a small percentage of contraband coming into the prisons come from visitors, and the majority of contraband comes from prison staff.
"This whole thing is not about being safer if we cut back on visitation,'' Thompson said. "This whole thing is about pushing video visitation at a price of $2.95 for 15 minutes. It's all about money."
But the DOC said that while it encourages video visitation, it doesn't make any commission off of it.
"It's important to note, they [JPay] are implementing this technology in our institutions at no cost to Florida taxpayers, and they also provide monitoring for these services which is necessary in a correctional environment,'' said Patrick Manderfield, DOC spokesperson.