Former Md. inmate sentenced to 13 years for attempting to fly drone into prison
The drone contained drugs, a cellphone and pornographic DVDs
---
Cumberland Times News
CUMBERLAND, Md. — A Maryland man was sentenced in Allegany County Circuit Court to 13 years in state prison for his role in attempting to use a flying drone to deliver contraband into the Western Correctional Institution at Cresaptown.
Thaddeus Shortz, 25, of Knoxville, was sentenced by Judge W. Timothy Finan, having been convicted of 31 offenses following a two-day jury trial in January.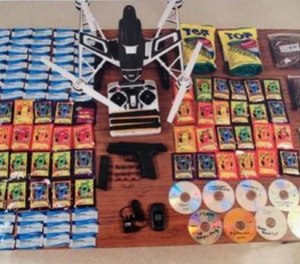 The sentencing was announced Tuesday by the office of State's Attorney Michael Twigg.
The Maryland Department of Public Safety and C3I Narcotics Unit began investigating a suspected plot to fly contraband into the prison in early August 2015.
They developed two suspects, Charles Brooks, an inmate within the facility, and Shortz, a former prisoner. Investigators set up surveillance on an access road that leads behind the prison on Aug. 22. They observed Shortz arrive in the area, along with another man, Keith Russell. The two exited a vehicle and acted suspiciously, at which time investigators made contact with them.
Inside the vehicle, a flying drone was located, along with six individually wrapped packages containing a substantial quantity of Suboxone, synthetic marijuana, tobacco, a cellphone and pornographic DVDs. There was also a handgun located within the vehicle. The investigation also revealed recorded phone calls from the prison between Brooks and Shortz, discussing the conspiracy.
Brooks and Russell were previously convicted and sentenced for their roles in the plot, with Brooks receiving a 13-year sentence and Russell a five-year sentence.
Shortz was represented by attorney Robin Ficker.
Copyright 2016 the Cumberland Times News