Miss. deploys "Operation Cellblock" to stop inmate calls, texts
---
By Corrections1 Staff
JACKSON, Miss. — The Mississippi Department of Corrections has announced a move to work with Global Tel*Link and Tecore Networks in the deployment of "Operation Cellblock" to deny inmates access to the wireless network with contraband cell phones. According to a statement released by the three principals in this venture, some 216,320 attempts — from as many as 600 devices a day by inmates inside the Mississippi State Penitentiary at Parchman — have been prevented from being delivered in just the first month of operation.
Corrections and law enforcement officials from the federal government and numerous states were on hand Wednesday to experience the new technology at Parchman, which is the first commercial deployment of its type in the United States.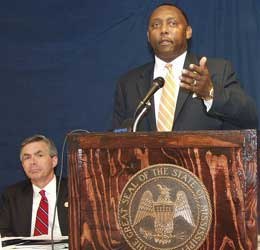 Mississippi Department of Corrections Commissioner Chris Epps commented, "The use of contraband cell phones by prison inmates is the most serious problem for corrections today, and my team and I have left no stone unturned to maintain public safety by eliminating this threat. GTL and Tecore have combined their extensive expertise and sophisticated support to deliver a solution which meets the needs of all of the stakeholders in this issue, most especially the citizens of Mississippi."
"Operation Cellblock" is powered by Tecore's Intelligent Network Access Controller (iNAC) Managed Access system at Parchman. iNAC is a multi-carrier, multi-technology platform which prevents unauthorized cell phone communications, enables legitimate and 911 calls, and has been authorized for operation by the Federal Communications Commission (FCC) as well as all the commercial carriers serving the facility. Tecore introduced the iNAC Managed Access technology two years ago, and has been working with the corrections community as well as with the FCC, other regulatory agencies, and the carriers to meet all of their needs.
iNAC does not require changes to existing law for it to be operated, unlike alternative technologies such as jamming. The system forms a radio frequency umbrella and provides the ability to manage cellular devices within a precisely defined target area. This Managed Access solution provides the system operator with the capability to permit or deny communications from these devices based on a rich policy engine, including allowing 911 calls from even unauthorized devices.
Given the success of the Parchman implementation, MDOC and GTL are working on plans for future deployments at additional MDOC facilities.