NJ inmate used cell phone to order girlfriend's killing
Police allege Anthony King orchestrated the killing of Kendra DeGrasse with a contraband phone
---
Corrections1 Staff
TRENTON, N.J.  — An inmate in a New Jersey State Prison used a contraband cell phone to order the killing of his girlfriend, authorities said Thursday when announcing charges against him and two relatives in connection with the 2005 execution-style slaying.
According to The Trentonian, Bloods gang member Anthony Kidd, 38, used the phone to call his brother, Henry Kidd, and their cousin, Darrell "Southside" Scott, and to lure his girlfriend to the location of the shooting.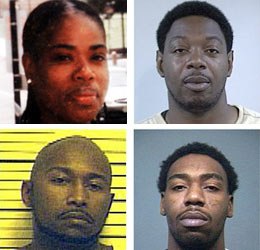 Authorities have charged all three in the death of Kendra Degrasse, 33, of Trenton, who was found dead in the driver's seat of her Nissan Pathfinder after being shot multiple times in the head.
Twenty months ago DeGrasse had been on the witness stand during Anthony Kidd's trial for shooting at two Trenton police officers in 2001.
She had been expected to tell the jury what she told police: that Kidd had arrived at her apartment and told her he had been in a shootout and crashed his car. But just before she was scheduled to testify, DeGrasse received an expletive-laden letter from Anthony Kidd, Mercer County Prosecutor Joe Bocchini told NJ.com.
"He also made it very clear she was a dead person walking," Bocchini said.
According to NJ.com, DeGrasse recanted, along with another ex-girlfriend who was allegedly threatened.
"This was a blatant, overt act of witness intimidation and witness tampering," Bocchini said.
New Jersey Corrections Department spokeswoman Deirdre Fedkenheuer told the Associated Press that the department has trained cell phone-detection dogs, but the problem persists in New Jersey prisons and elsewhere.
She said the department is lobbying the state's congressional delegation for passage of the Safe Prisons Communications Act, legislation that would permit the use of cell phone jamming in prisons under certain circumstances.
"Until cell phones are rendered useless within jails and prisons," Fedkenheuer said, "the safety of staff and the public will be in jeopardy."