Number of Ohio inmates smuggling cell phones rises
Prison officials have also seen a rise in black market drugs and alcohol contraband
---
By Laura A. Bischoff
Dayton Daily News
DAYTON, Ohio — Contraband seizures inside Ohio prisons, especially cell phones, are climbing dramatically as inmates and prison gangs smuggle goods behind bars and officials work to find the prohibited items, statistics show.
Ohio Department of Rehabilitation and Correction records show that between 2011 and 2014, seizures grew 222 percent for cell phones, 109 percent for drugs and alcohol and 10.8 percent for weapons. Tobacco seizures between 2012 and 2014 spiked 173 percent.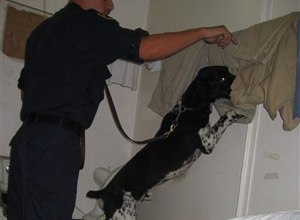 A separate report released this year by the Correctional Institution Inspection Committee, a bipartisan watchdog group, found that contraband confiscations grew nearly 64 percent between fiscal year 2013 and fiscal year 2015.
"Unsurprisingly, major contraband has a strong correlation with violence. Illegal substances and weapons in particular are commodities in prison that can result in conflicts between rival gangs or individual inmates," the CIIC reported. "Confiscating contraband is an important goal of prison security."
DRC data for 2011 to 2013 shows no significant changes in assault rates. The department did not provide more recent data.

The ways to smuggle tobacco, drugs and cell phones into Ohio prisons are creative and gutsy: fly a drone over the prison yard to make a drop, pack items into a tennis ball and throw it over the fence, tuck the contraband into a hollowed out book sent through the mail.
"They go to great lengths and there is big money involved in it," said Ed Voorhies, Ohio Department of Rehabilitation and Corrections operations director.
Depending on supply and demand on the prison black market, a cell phone can sell for $1,000 or more and a pound of loose tobacco is worth $2,240 -- once it is rolled into cigarettes that sell for at least $5 apiece, said Voorhies. Ohio banned tobacco products in 2009, triggering a black market for inmates hooked on nicotine.
Drugs and alcohol are by far the biggest category of seized contraband. Between fiscal year 2010 and 2015, DRC confiscated drugs or alcohol 11,255 times, weapons 6,982 times, cell phones 2,637 times and tobacco 2,590 times, according to the CIIC report.
DRC figures show cell phone confiscations grew from 228 in 2011 to 735 in 2014 -- an increase of 222 percent.
Cell phone traffic inside prisons is a national problem, according to the National Institute of Justice. In Texas, a death row inmate used a cell phone to threaten a state senator; in Nevada, state officials fired a dental assistant who helped an inmate get the cell phone that was used in a successful escape; in New York, an inmate used a cell phone to try to coordinate an escape while on a medical transfer; in Tennessee, a prisoner accused in a deadly shooting of a guard used a cell phone -- stashed in a peanut butter jar -- to coordinate his escape.
And it's not just the minimum security inmates that have them. Twice, California corrections officials twice found a gun on notorious killer Charles Manson.
"It's not just to contact their family on the street and say happy birthday. It's for business from inside the fence. It's making news across the country -- from New York to California, cell phones are a threat," said Pickaway Correctional Institution officer Kevin Burke, who added that everyday he either sees or smells contraband at work.
"It's a big cat and mouse game. It's their job to have it and hide it and get it in and it's our job to find it and keep it out," said Burke.
Voorhies said the rising numbers are attributable to more smuggled goods making inside and more vigorous detection efforts by prison officials. 
DRC uses three dogs trained to sniff out drugs, tobacco and even cell phone batteries. In 2013, the department spent $321,909 on 34 portable, highly-sensitive metal detectors designed to locate hidden contraband.
But, he added, "Our main defense against contraband is our staff. Our corrections offices, our mail room officers do an amazing job."
Warren County, home to two state prisons, has seen an increase in contraband conveyance cases, according to Warren County Prosecutor David Fornshell. There were 12 cases in 2011, 24 in 2012, 22 in 2013, 25 in 2014, 44 last year and 18 so far in 2016. Fornshell said two cases involved corrections officers. Conveyance is either a misdemeanor or felony offense, depending on which contraband is smuggled and whether it is a first offense. The Warren County cases were all felonies.
By and large, it's prison gangs -- Arian Brotherhood, Crips, Bloods, Folk, People, Heartless Felons and hundreds of subsets -- that control the contraband behind bars, Voorhies said. 
"Security threat groups vie for control and influence over markets, just the way gangs do on the street."
Inmates use a network of sources outside to coordinate payments for contraband and they employ people to convey it -- sneak it in, throw it over the fence, whatever -- as well as fellow prisoners to hold it.
Confiscating contraband is key to prison safety but it can lead to violence. In July 2015, some 200 inmates broke out into a brawl at Mansfield Correctional Institution when a drone dropped a package in the yard. Prison officials found drugs and tobacco in the package.
"It is a replay of the same kind of violence that plagues inner cities in terms of gang activity in and around drugs and that whole criminal lifestyle," Voorhies said.