Official: Rikers staff searches 'meaningful' action to keep drugs, contraband from jails
A memo said the inspections were "not to invade your privacy or due to a lack of trust," but to instead keep drugs out of the jail
---
By Graham Rayman and Elizabeth Keogh
New York Daily News
NEW YORK — A City Council member said she's glad the Correction Department has taken "meaningful" action to search Rikers Island workers for contraband — an effort that has brought at least one arrest.
Police, city sheriff's officers and Correction Department officials searched employees and their vehicles as they arrived at Rikers early Wednesday.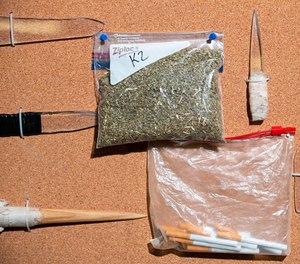 The searches — which began at 4:45 a.m. — resulted in the arrest of a correction officer, Darrell Wallace, 47, who police said was in possession of liquid cocaine.
Wallace was charged with criminal possession of narcotics and promoting prison contraband. He earned $101,189 in 2022, according to the SeeThroughNY website, which tracks government salaries.
The joint operation search — an unprecedented move at the jail complex — was welcomed by Councilwoman Carlina Rivera (D- Manhattan), who has criticized Correction Commissioner Louis Molina for not doing enough to stem a rising flow of drugs and other contraband into the city's jails.
"I'm encouraged that Commissioner Molina is responding to the hearing I chaired in the City Council about drugs entering the jail system by taking action around general security and personnel's involvement in this crisis at Rikers Island," Rivera said in a statement.
"Multiple investigations have shown that staff and guards at Rikers are a source of contraband and narcotics entering the facilities, and the coordinated overnight checkpoint is an example of a meaningful intervention to protect the health and safety of detainees and staff," Rivera said.
Last week, Rivera said the Correction Department has been unhelpful providing information on how drugs are getting into city jails, telling the Daily News the department has been "incredibly difficult to work with."
Molina has focused on the mails as a source of contraband at Rikers, and has proposed barring detainees from receiving packages from all but mail-order companies and digitizing their letters so they can be read on tablet computers to prevent drug-soaked paper from reaching the jails.
But officials of the city Department of Investigation have said jail staff are a prime source of contraband in the jails. And a Brooklyn federal court trial in November, a Correction Department investigator working with the Investigation Department said corrupt Rikers officers and employees are "usually" the source of contraband.
Including the ongoing searches of staff members and their personal vehicles at the East River jail, the department will also be scanning non-legal mail, restricting how inmates receive packages and increasing the use of body scanner technology.
In a video memo blasted out to correction staff Wednesday, Molina told employees the inspections were "not to invade your privacy or due to a lack of trust" but to instead keep drugs out of the jail.
The Department of Correction has not returned multiple requests for comment.
"Commissioner Molina and I are aligned in our opinions that drugs have no place in jails because they fuel violence and put people at risk of instability, addiction, overdose, and more," Rivera said.
NEXT: 2 inmates stabbed, another OD'd as violence and contraband continue to plague Rikers Island
©2023 New York Daily News.
Visit nydailynews.com.
Distributed by Tribune Content Agency, LLC
McClatchy-Tribune News Service