Officials: 29 sickened at Ohio prison due to fentanyl-heroin mix
Nurses, COs who attempted to aid overdosing inmate were exposed to mixture described as "white powder"
---
By Bethany Bruner
The Columbus Dispatch
CHILLICOTHE, Ohio — Exposure to a mixture of two powerful synthetic opioids, fentanyl and heroin, sent an inmate and 29 staff members from Ross County Correctional Institution to a Chillicothe hospital Wednesday morning, the State Highway Patrol said late Wednesday night.
According to the patrol, an inmate was found suffering from a possible overdose in a cellblock at the correctional facility about 9:10 a.m. Wednesday. The inmate, who was not identified, was transported to Adena Medical Center in Chillicothe.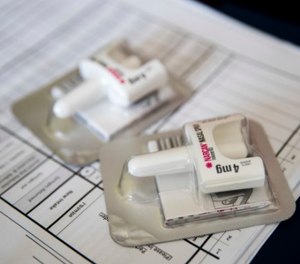 Nurses, corrections officers and other prison employees who attempted to aid the inmate also were exposed to the mixture, described by officials as a "white powder" and which authorities and a hospital official initially suspected contained fentanyl. The Highway Patrol said late Wednesday night in a release that testing at its crime lab confirmed the presence of both fentanyl and heroin.
Dr. Kirk Tucker, chief critical officer at the hospital, said the inmate who overdosed was not responsive and not breathing when he arrived at the emergency department. The inmate was given multiple doses of Narcan, a drug that reverses the effects of opioids, and was in stable condition in the intensive-care unit. Tucker said he is expected to recover.
In total, 29 people were determined to have potentially been exposed, with 28 of them being transported to Adena for evaluation, the state patrol said. Of those, there were 24 kept for treatment, including 23 who were corrections officers and four nurses in addition to the overdosed inmate. A second inmate was treated at the prison, the patrol said.
Adena's press release said it treated 24 people. All but one RCI staff member was treated and later released after decontamination. One RCI staff member who was a first responder also remained for observation Wednesday night, the hospital said.
"The vast majority of those who were exposed were presenting with symptoms including nausea, a sensation of numbness and heaviness in their hands and feet, and they felt very sleepy or tired," Tucker said. "Several folks experienced nausea, requiring medication. The ones who looked like they were on the verge of falling asleep were aggressively given doses of Narcan."
Tucker said those transported with no symptoms were released from the hospital within about 2 1/2 hours. Adena said it closed its emergency department until about 6 p.m. Wednesday to deal with the onslaught of victims and with decontamination.
The 31 other inmates in the cellblock where the exposure occurred were relocated to another part of the prison, which houses more than 1,900 inmates. The prison was decontaminating the affected unit before any inmates were moved back into the area.
Christopher Mabe, president of the Ohio Civil Service Employees Association, said in 27 years of working in and around prisons he had never seen anything like Wednesday's event. While violence is on the rise in Ohio's prisons, issues with narcotics finding their way inside are also on the rise.
"Drugs exist in our prison system," Mabe said. He said the union has sought to increased staffing inside prisons to better protect corrections officers from exposure to harmful substances and violence.
In Pennsylvania, meanwhile, all state prisons were put on lockdown Wednesday after incidents at multiple facilities of guards and nurses reporting feeling sick after exposure to possible synthetic opioids.
"The safety and security of our employees is my No. 1 concern," said Secretary John Wetzel of the Pennsylvania Department of Corrections. "Our state prisons, especially those in the western part of the state, have experienced recent incidents in which employees have been sickened, and we need to get to the bottom of this issue now."
McClatchy-Tribune News Service