Pa. state prisons step up safety, confront 'toxic substances'
Corrections Secretary John Wetzel said the agency is working to combat threats from staff assaults to drugs
---
By Jocelyn Brumbaugh
The Tribune-Democrat
JOHNSTOWN, Pa. — To ensure staff and inmate safety within the state prison system, Pennsylvania's Department of Corrections has announced aggressive measures to address new threats.
In a press release, Corrections Secretary John Wetzel said the agency is working to combat threats from staff assaults to drugs on many fronts.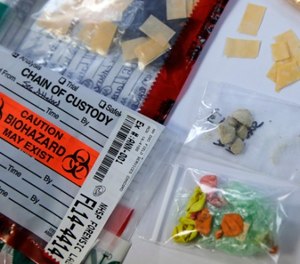 The department is redoubling its efforts to address evolving threats, especially those involving illicit, harmful substances and the violence that can be connected to their illegal trade.
"The Department of Corrections is not immune to the drug epidemic that has affected record numbers of individuals on the outside, one that has been made more complex and more dangerous to those simply exposed to the drugs by the introduction of various synthetic compounds," the press release says.
Since the beginning of August, 18 staff members at three institutions in western Pennsylvania were sickened from exposure to an unknown substance, according to the DOC. State police is currently conducting testing on samples of the substance to determine its identity.
"As new toxic substances are introduced that are more difficult to identify, the DOC is working to eliminate the avenues for contraband to enter the system," the release says.
"The DOC believes there is a link between increased drug trade in prisons and the uptick in violence, both inmate-on-inmate and inmate-on-staff assaults."
The staff assault rate has increased by 4 percent in the first half of 2018, according to the DOC, but the overall downward trend in the staff assault rate continues, remaining lower now than it was 25 years ago.
"Prison staff, especially corrections officers, risk their lives on a daily basis," said Tabb Bickell, the DOC's executive deputy secretary for institution security.
"We are moving quickly and deliberately to make sure they have all the available tools and training to ensure their safety."
Earlier this year, following the assault that killed Sgt. Mark Baserman at SCI-Somerset, the DOC introduced new staff training protocols in violence prevention and response, instituted weekly intelligence briefings, added dedicated intelligence lieutenants to each facility and contracted with an information technology firm to enhance risk assessment, especially in predicting violence.
The DOC is confident that introducing new training and safety measures to limit the introduction of contraband will reduce potential exposure and further decrease assaults.
According to the DOC, a multi-point plan has been developed to respond to threats to safety and security within the facilities, including the following:
New training in use of Personal Protective Equipment for majority of staff to ensure the use of protective gear when conducting searches and processing inmate mail or other items.
Training in-house Fire Emergency Response Teams in hazardous material response.
Increasing protective gear inventory, including purchasing special gloves and respirators to ensure staff have greater protection when handling potentially hazardous material.
Purchasing safety disposal equipment for unknown substances, including an appropriate container and bags that can be sealed for use in the mailrooms to safely secure and dispose of questionable items.
 Expanding use of body scanners at state prisons and community corrections centers to be used following inmate visitation to ensure contraband does not enter the institutions.
Reviewing procedures for inmate mail processing to better identify means to safely and efficiently detect and divert contraband before it is delivered to inmates.
Purchasing K-9 Narcan auto injectors to be available for use on drug-sniffing K-9s.
Expanding the K-9 unit by three teams dedicated to searching community corrections facilities.
McClatchy-Tribune News Service