Police: Woman used Bible to try to smuggle meth and weed into jail
The local sheriff called it the "wrong way of trying to help someone"
---
By Max Londberg
The Kansas City Star
KANSAS CITY, Mo. — A Missouri woman used a Bible to attempt to smuggle methamphetamine, marijuana and notes to multiple inmates in a jail, police say.
Ashley Despain, 35, was charged with delivery or possession of a controlled substance in a jail, a felony, according to the Vernon County Sheriff's Office. She allegedly attempted to smuggle the drugs into the Vernon County Jail on Monday evening.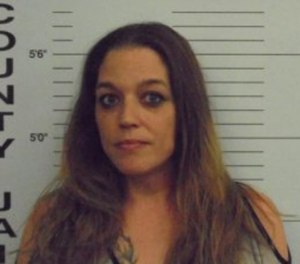 The local sheriff called it the "wrong way of trying to help someone."
"Usually (a Bible) is something you bring to help somebody through situations," Sheriff Jason Mosher told The Star on Wednesday. "That's probably the wrong kind of help — putting drugs in it."
The Sheriff's Office initially said the Bible only contained suspected marijuana on Wednesday. But on Thursday, Mosher told The Star a deputy also found the notes and meth.
The notes were addressed to more than one inmate, Mosher added.
Attempting to smuggle contraband to inmates is a felony, regardless of the type of contraband, Mosher said.
Typically, Vernon County authorities do not allow citizens to deliver items to inmates, but exceptions are made for books and the Bible. Mosher added an inmate was expecting the delivery, though he was unsure of the relationship between Despain and the inmate.
The jailer on duty noticed a lumpy part of the Bible's binding. The jailer then found a small baggie of suspected marijuana wedged between the binding and the Bible's pages. The notes and meth were also found in the Bible.
Despain was arrested in the parking lot. A passenger who had accompanied Despain to the jail was also arrested in the parking lot on an outstanding warrant, Mosher said.
Mosher called the alleged smuggling attempt a first for the Office.
"This will now be on our list ... something to check and be on the lookout for," Mosher said.
Despain's bond was set at $5,000. She was arraigned Wednesday.
©2018 The Kansas City Star (Kansas City, Mo.)