Prosecutor: Cause of drug exposure at Ohio prison unclear
Investigators haven't been able to determine how an inmate and 23 staff members were exposed to and sickened by a mix of heroin and fentanyl
---
Associated Press
CHILLICOTHE, Ohio — Investigators haven't been able to determine how an inmate and 23 staff members at a southern Ohio prison were exposed to and sickened by a mix of heroin and the potent painkiller fentanyl, the local prosecutor said.
Authorities couldn't determine who brought the contraband drugs to Ross Correctional Institution and don't have enough information to prosecute anyone for the August incident, Ross County Prosecutor Matt Schmidt told the Chillicothe Gazette.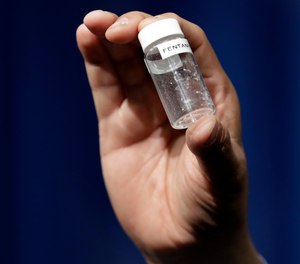 The case was investigated by the State Highway Patrol, which hasn't publicly released its report.
Schmidt, who reviewed the findings, said the investigation was inconclusive about what caused the exposure. He said one possible explanation came from the inmate treated for drug exposure, who told investigators the fan in his cell blew dust or white powder into the air when it was turned on that day.
Prison officials said the Ohio Department of Rehabilitation and Correction has since taken steps intended to improve staff safety at RCI and elsewhere in the state prison system. Those changes include creating a drug interdiction team of staff from multiple prisons to have ongoing safety discussions, providing more protective equipment to all prisons, and arming more staff with the overdose antidote naloxone.
"Our goal is to do everything we can to focus on safety," regional prison supervisor Michele Miller told the newspaper.
A staff memo from the department's interim director, Stu Hudson, indicated the staff at Ross Correctional Institution was supplied last month with the overdose antidote naloxone to have on hand, and 4,000 doses of naloxone are being distributed among the state's prison facilities this month, the newspaper reported.
Wardens also are considering whether to use body scanners at their prisons. Those could be used to check inmates who return to the prison from court or from work assignments elsewhere, Miller said.