SC prisons agency seeks to reduce contraband with netting
Last year, corrections officers at prisons statewide discovered 225 throw-overs
---
By Seanna Adcox 
Associated Press
COLUMBIA, S.C.  — South Carolina's prisons agency wants to install netting along the fences that surround its high- and medium-security prisons to prevent people from tossing over cellphones and other contraband.
The State Fiscal Accountability Authority on Tuesday approved the project's design phase, expected to cost $113,400.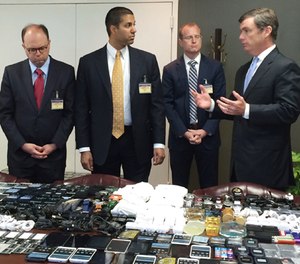 The netting is a low-cost way of stopping the flow of contraband to prisoners through backpacks, duffel bags and other packages thrown into prison yards over the razor wire, said Corrections Director Bryan Stirling.
"We're being attacked from the outside," he said.
Last year, officers at prisons statewide discovered 225 throw-overs, with monthly confiscations ranging from seven last March to 28 in December, according to the agency.
People generally throw over packages containing several thousand dollars' worth of contraband — including cellphones, tobacco and marijuana — because it's not worth risking arrest to fling a single cellphone, Stirling said.
"For every one we catch, multiple upon multiple get over. We try to patrol the perimeter, but we only have so many officers," he said after the meeting.
Installing the netting system around all high-security prisons and most medium-security — 11 total — is expected to cost about $7.6 million. The agency needs additional approvals before installation could begin.
But Stirling hopes to start in late summer or fall.
The system would involve 50-foot-high poles, mesh designed to withstand up to 160 pounds of force and rope borders with a breaking strength of 5,500 pounds, according to documents provided to the fiscal board.
The netting would rise nearly 40 feet higher than the existing, 12-foot fencing, Stirling said.
"We can't block signals, so we're left with doing other things," he said.
South Carolina has tried for years to crack down on illegal cellphones, thousands of which are confiscated in the state's prisons every year, smuggled inside hollowed out footballs, whisked in by corrupt employees and sometimes even dropped by drone.
Legislation up for debate in the state Senate would make it illegal to fly a drone within 500 feet of a prison. The misdemeanor would be punishable by up to a $500 fine and 30 days in jail.
State prison officials have for years unsuccessfully sought permission from the Federal Communications Commission to jam cell signals in the state's prisons altogether, using transmitters that render smuggled phones into paperweights. But the cellphone industry has stood in the way.
Stirling said Tuesday he's hopeful new leadership at the FCC will allow it.
The danger of smuggled cellphones is they allow prisoners to continue their crimes, Stirling has said.
In 2010, an anti-contraband officer at one of South Carolina's most violent prisons was shot six times outside his home after police said an inmate used an illegal cellphone to order the hit. He survived, enduring more than a dozen surgeries, and has become an advocate for using jamming technology in prisons.