Synthetic marijuana emerges in NC prisons
Although marketed as a safe alternative to marijuana, K2 and Spice are addictive and can be far can be far more dangerous
---
By Ames Alexander and Gavin Off
The Charlotte Observer
LAURINBURG, N.C. — North Carolina prison officials are grappling with a growing threat – synthetic marijuana, which is suspected in the death of at least one inmate and the hospitalizations of dozens of others this year.
Known by brand names such as K2 and Spice, synthetic marijuana is readily available online. It's marketed as a safe alternative to marijuana. But in reality, it's addictive and can be far more dangerous than marijuana, according to the National Institute on Drug Abuse.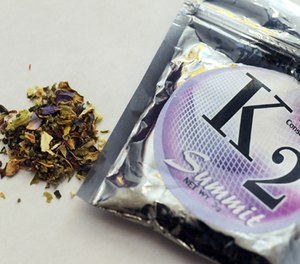 Using it can trigger seizures and suicidal thoughts, elevate blood pressure, and increase the risk of heart attacks.
I can smell it burning right now.
James McElreath, an inmate at Scotland Correctional Institution, speaking about the widespread use of synthetic marijuana in North Carolina's prisons
Officials began seeing K2 in the North Carolina prisons about two years ago, according to prison spokesman Keith Acree.
"Since then, dozens of inmates have been out to local hospitals as a result of K2 use, some of them with hospital stays of more than a week," Acree told the Observer.
Several inmates interviewed by the Observer said that K2 has become widespread in the prisons – and that most of it is brought in by correctional officers.
"I can smell it burning right now," James McElreath, an inmate at Scotland Correctional Institution, said during a recent telephone interview.
State prison leaders have acknowledged that most contraband in maximum security facilities is smuggled in by staff members.
Among the recent emergencies tied to synthetic marijuana:
In January, 10 inmates at Harnett Correctional Institution were hospitalized after suspected overdoses from synthetic marijuana.
In May, 14 prisoners at Hyde Correctional Institution were hospitalized. Again, K2 was suspected as the cause.
In June, a 38-year-old inmate at Caledonia Correctional Institution was found dead in his cell. State prison officials said the victim, Charles Moss, may have been using K2.
Death of an artist
Fellow inmates believe synthetic marijuana also played a role in the recent death of David Wise, a 58-year-old prisoner at Scotland Correctional Institution, about 100 miles southeast of Charlotte.
Wise, an artist whose work had been displayed in galleries on the Outer Banks, had been serving time for drug offenses and assault by strangulation. He was scheduled to be released in 2018.
But on the afternoon of Aug. 2, a fellow prisoner found Wise unresponsive on his bunk. Inmate James K. Jones told the Observer that Wise had been smoking K2 with another prisoner about noon that day. A few hours later, Jones found Wise looking gray and lifeless.
"I thought he was dead," Jones said.
Dozens of inmates have been out to local hospitals as a result of K2 use, some of them with hospital stays of more than a week.
Keith Acree, a spokesman for the North Carolina prisons, writing about the toll that synthetic marijuana is taking on the state's inmates
Wise was taken to a local hospital, where he died two days later. Doctors found he had suffered a heart attack.
An autopsy concluded that Wise died as a result of heart disease. But medical examiners did not test for synthetic marijuana in Wise's body. A spokesperson for the state Department of Health and Human Services said medical examiners don't test for synthetic marijuana unless investigators ask them to do so.
Acree said prison officials initially thought that K2 might be a factor in Wise's death, but "the medical information we were getting from doctors and the hospital did not support that."
McElreath, the inmate at Scotland Correctional, said he'd also had seen Wise using K2.
"I told him that's insanity," McElreath said. "He'd say, 'Hey man. I wish I could stop, but I'm a drug addict.' "
McElreath says he has seen inmates so impaired by K2 that they have attempted to jump from the second tier of a cellblock.
"I've seen them laying on the concrete floor swimming like they were on a lake," McElreath said. "I've seen them freak out, crying, screaming for their Dad or Mom."
'On the lookout'
Prison officials say they are trying to educate inmates about the perils of synthetic marijuana. Prison leaders have incorporated information about K2 into inmate orientation, and have put up posters in inmate living areas warning of the dangers.
"Prison staff are constantly on the lookout for it," Acree wrote.
Manufacturers make synthetic marijuana by spraying mind-altering chemicals on dried plant material. It's often advertised as potpourri or herbal incense, but those who smoke it are generally looking to get high.
A 2015 report by the federal Centers for Disease Control found that the number of people nationwide who had died from synthetic marijuana had tripled over the previous year.
North Carolina legislators outlawed the manufacture, sale and distribution of synthetic marijuana in 2013.
State Rep. Craig Horn, a Weddington Republican who helped sponsor the legislation, says synthetic marijuana is less prevalent in stores than it used to be. But he acknowledged that it is still available online, and that some manufacturers are trying to skirt such laws by including a disingenuous warning on their packages: "Not for Human Consumption."
If anything, Horn says, he has become more worried about synthetic marijuana.
"This stuff is getting more dangerous because it's getting more potent," he said. "The folks who make this stuff constantly push the envelope."