Texas inmate accuses CO of planting drill bits in cell
Case involves officer who was accused of planting screwdrivers in a cell earlier this year
---
By Keri Blakinger
Houston Chronicle
BRAZORIA COUNTY, Texas — An allegation that Texas corrections officers planted drill bits in an inmate's cell at a southeast Texas prison has sparked another investigation at the same Brazoria County lock-up where earlier this year four officers were indicted.
The current case - apparently involving at least one of the same officials accused of planting screwdrivers in a cell in the spring - stems from the earlier incident documented in a letter from an inmate tipster to an East Texas state representative.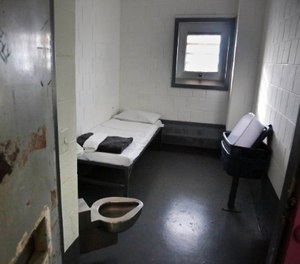 "They said it wasn't personal, just doing what they were told to do," the prisoner at the center of the claim later wrote the Chronicle. "The whole unit knew what happened to me, but no one spoke up for fear of losing their job or being set up as well."
The investigation is just the latest in a string of troubles at the Rosharon unit, where leaked emails earlier this year revealed a short-lived disciplinary quota system and led to a statewide audit, several demotions, and the decision to toss more than 600 disciplinary cases. In an unrelated matter, the warden - before he was demoted and transferred - was written up for allegedly neglecting maintenance at the aging facility, records show.
"There seems to be a fundamental misunderstanding about the mission of TDCJ if these types of actions keep happening," said Doug Smith of the Texas Criminal Justice Coalition, a non profit advocacy group. "These actions suggest that there are people in positions of power who simply do not understand that role."
The Office of the Inspector General confirmed the investigation into the new evidence-planting claim. Texas Department of Criminal Justice spokesman Jeremy Desel declined to comment, though previously he described the last such claim as an "isolated incident."
***

The latest case started in January, when inmate Johnny Reyes was hit with a disciplinary write-up after officers found contraband drill bits in his cell, according to inmate disciplinary records.
"They said they found a yellow bag with draw string in my locker, which they claim had 3 large drill bits," Reyes wrote. "After trying to convince them to do the right things I asked, 'Why are you all setting me up?'"
Reyes was disciplined and transferred, but some men still at Ramsey reached out to the Chronicle, recounting what they'd seen and heard and asking for an investigation. One claimed he'd personally witnessed the incident and alleged evidence-planting was a "fairly regular" occurrence there.
Another man also wrote Rep. James White, R-Hillister. The state lawmaker forwarded the matter to the Office of the Inspector General, which opened an investigation - only to close it last month. But after "acquiring sufficient information," officials confirmed this week that they'd opened another case.
White expressed confidence in the investigation and the inspector general's ability to do a "great job."
"We'll just let it play out," he said Wednesday.
The incident is the latest in a series of issues at the Ramsey Unit beginning with the discovery of a quota for inmate disciplinary reports. That came to light in mid-May after the Chronicle obtained copies of an email from then-Capt. Reginald Gilbert ordering officers to write up prisoners or face disciplinary consequences themselves.
"Effective March 10, 2018, each Sergeant will be required to turn in at least two (2) cases written by officers for a Level 2 Code 35 'Unauthorized Storage of Property,'" he wrote. "Two each day is my requirement. Remember this is to be done each workday without exception."
A couple hours later, Major Juan Jackson responded, noting that the "below instructions will help greatly in fighting a gig," which is slang for an audit
Though he was demoted and given eight months of disciplinary probation, Gilbert defended himself to investigators, saying he wasn't ordering officers to write more cases but simply instructing sergeants to turn in cases already written.
"My email has been taken out of context," he wrote.
Weeks after it began, prison officials abandoned the quota system, but TDCJ started investigating amid news reports on the short-lived scheme. Officials said they would review all disciplinary cases across the system and look for spikes or abnormalities.
The audit found similar short-lived disciplinary quota systems had been in place at three other units in recent months, but the prison system has since fought the release of reports and records regarding that review.
Several officers were demoted as a result of the probe and more than 600 disciplinary cases tossed.
But on May 25, as officials probed the "bogus" cases, an inmate's mother wrote in to say her son had been set up by prison guards who allegedly planted two screwdrivers in the man's cell earlier that month. The Office of the Inspector General launched a probe and Jackson - who'd already been demoted and transferred - was walked off the unit and resigned under investigation. On Wednesday, his lawyer declined to comment.
He and three other prison officials were later indicted on felony tampering with evidence charges in Brazoria County, and their cases are still pending.
In June, Warden Virgil McMullen was demoted and transferred days after he was written up for allegedly failing "to meet the essential functions of overseeing the overall maintenance of the building and permanent improvements of the facility," records show.
Desel said the now-completed maintenance work mostly included "simple" matters like burned-out lights that hadn't been replaced.
One inmate, in a June letter to the Chronicle, framed the repair problems as much more pervasive - citing broken heaters, windows and shower heads - but instead blamed McMullen's predecessor for letting the unit go "far downhill" into an "EXTREME state of disrepair."
For advocates, the issues at Ramsey highlight the need for more eyes on the prison system.
"Independent oversight would provide transparency and accountability and this would allow for the resolution of various problems that would make the system safer," said Jennifer Erschabek of Texas Inmate Families Association. "It would be a cost-effective and pro-active approach to avoiding expensive lawsuits."
McClatchy-Tribune News Service