Unable to jam signals, SC prison pays cops to fight cellphones
Director Bryan Stirling said he's enlisting the help of law enforcement to combat the issue outside prison fences
---
By Meg Kinnard
Associated Press
COLUMBIA, S.C. — Barred from using the jamming technology he feels would solve the security threat of inmate cellphone use, South Carolina's prisons director said Wednesday that he has been enlisting help from law enforcement agencies across the state to help combat the issue from outside prison fences.
Corrections Director Bryan Stirling told reporters that he has been working with Richland County Sheriff Leon Lott over the past year, paying some of Lott's deputies to patrol woods near a maximum-security prison in Columbia. In addition to being on the lookout for any criminal activity in general, the deputies are also specifically tasked with arresting people for trying to smuggle contraband, including phones, into the facility.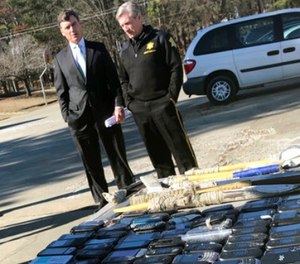 Stirling and Lott spoke with reporters outside Broad River Correctional Institution, a prison located on the grounds of the Corrections headquarters in Columbia. They spoke in front of a display of hundreds of cellphones and power chargers seized from the state's institutions. Over the past year, 800 phones have been seized at Broad River alone, Stirling said.
"Our officers unfortunately they can't arrest these people because they don't have jurisdiction over them," Stirling told The Associated Press on Wednesday, ahead of the announcement.
Lott said that he has two investigators assigned fulltime to the Broad River project, while other officers patrol the property at undisclosed times. Saying he didn't immediately know how much the agency had spent on paying Lott's deputies, Stirling said his efforts wouldn't be necessary if agencies like his were allowed to jam cell signals within prisons, thereby rendering useless any phones inmates are able to get inside.
"We're having to use resources that we could be using inside the prison," Stirling said. "It could go into officers' salaries. This could go to rehabilitation of inmates."
State and federal prison officials have said the phones — smuggled into their institutions by the thousands, by visitors, errant employees, and even delivered by drone — are dangerous because inmates use them to plot violence and carry out crimes.
Some advocate signal jamming as a way to fix the problem. But wireless service providers have long said that, while they support efforts to cut out inmates' illegal calls, they worry signal-blocking technologies could thwart legal calls.
The Federal Communications Commission, which regulates the nation's airwaves, has said it can't permit jamming in state prisons, citing a decades-old law that prohibits interruption of the airwaves at state-level institutions. But the agency has been softening on the issue, thanks to persistent pleas from officials including Stirling and South Carolina Gov. Henry McMaster, as well as members of Congress including Tennessee Rep. David Kustoff.
Next week, Stirling will be in Washington with his counterparts from states including Arizona, California and Tennessee for a meeting on ways to potentially use technology like signal jamming to fight the phones, which officials say are used by inmates to plan crimes and acts of violence.
Federal institutions are allowed to jam, although they have not done so in the past. Several weeks ago, the U.S. Bureau of Prisons tested jamming technology at a facility in Maryland, and U.S. Justice Department officials have told the AP they hope the demonstration will lead to more agencies being able to use the technology.
Until he's allowed that same opportunity, Stirling will keep paying for the patrols, which he's already expanded to two other counties across South Carolina.
"We're having to spend all this money," Stirling said. "It just doesn't make any sense."