Woman jailed over drug-laced love letters to boyfriend
Part-time mail clerk stumbled onto the scheme after finding drugs underneath the stamp of a letter that wasn't sticking properly
---
By C1 Staff
MARION COUNTY, Fla. — A part-time mail clerk stumbled onto the scheme of an inmate and his girlfriend after the clerk discovered drugs underneath the stamp of a letter that wasn't sticking properly.
My News 13 reports that Sarah Laurito will be joining her beau, Jeremey Weber, behind bars after the stamp revealed several orange film-like strips behind the stamp that were later proven to be Suboxone.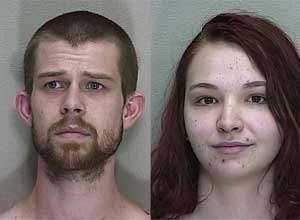 Weber tried to speak in code over the phone to Laurito, saying he wanted "a sub from behind the food stamp office."
Investigators seized any letters Weber had received from Laurito, and found that all five collected had the stamp either torn or peeled out.
Weber told Laurito to "use her other phone" and to stop writing after his letters were seized. Instead he asked her to have his aunt write to another inmate housed with him.
Investigators also seized those letters, and found more Suboxone. The inmate Weber had the letters sent to said he only knew him from jail, as they were both housed in the same medical pod.
The inmate said that after Weber's letters were seized, Weber came to him asking if he wanted a pen pal. The inmate agreed, and received a letter that made no sense just a few days later. He threw the letter away after reading it to Weber.
Weber initially agreed to an interview with investigators, but then said he had a prescription for Suboxone and asked for a lawyer.
The same day, Laurito came to visit Weber but was taken aside by investigators.
Laurito also said she had a prescription for Suboxone, but admitted to sending it to Weber in jail three or four times under stamps. When questioned about the letter to the other inmate, Laurito said she filled out names and addresses but said another person put the Suboxone behind the stamp.
Three days later, Laurito turned herself into the Marion County Jail and was arrested for the introduction of contraband into a detention facility. Weber was also arrested on the same charges.