'All I could take was shallow breaths': Mass. CO describes harrowing COVID-19 illness
"I never experienced anything like this in my life and I wouldn't wish this on anybody," Robert Southworth said
---
By Jill Harmacinski
The Eagle-Tribune
SHIRLEY, Mass. — Robert Southworth had endured dizziness, low-grade fevers, extreme exhaustion and five days of violent diarrhea when he wasn't even eating anything.
The night the 36-year-old dialed 911 for help, he literally "could not breathe at all."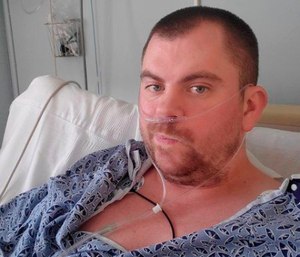 "All I could take was shallow breaths," said Southworth, a sergeant in the Massachusetts corrections system.
Loaded in the back of an ambulance, he wondered if he'd ever again see his wife, veteran Lawrence police officer Ariskelda "Eddy" Southworth, and their young son.
When he was pulled out of the ambulance on a stretcher at the emergency room, he was surrounded by medical workers dressed from head to toe in hazmat gear because he had tested positive for COVID-19.
His wife also tested positive but is experiencing much milder symptoms. Their 7-year-old son remains healthy.
"They brought me into one of the quarantine rooms with hard plastic walls and there was a large fan pulling air out of the room," Southworth said.
A former Marine, Southworth said he'd been injured previously and has been in car accidents.
"But I never experienced anything like this in my life and I wouldn't wish this on anybody," he said.
Southworth works at the Souza-Baranowski maximum state prison in Shirley. He spoke out about his COVID-19 symptoms and illness this week so people will realize the pandemic is real and heed warnings to stay at home, socially distance and wear masks.
He said he's seen people posting comments on social media questioning whether the coronavirus actually exists "or is just a power grab by the government."
"That is just nonsense. It just made me literally snap," he said.
In turn, he warned others about his symptoms and struggle on Facebook.
Those who doubt COVID-19 are driving a false narrative, he said, "and it makes people think they can just go out and do anything in public."
It's unclear where Southworth contracted the virus. He initially was tested at Lawrence General Hospital and also visited an urgent care center to have his oxygen levels checked. He was later admitted to Nashoba Medical Center in Ayer, near where he and his family recently relocated.
He was treated with a combination of hydrochloroquine, a drug used on malaria patients, and the antibiotic azythromycin (Z-pack).
Now recuperating at home, Southworth and his wife cannot return to work until they each test negative twice for COVID-19 within a 24-hour period.
He said in addition to the extreme physical symptoms, he also fought and overcame mental anguish. He experienced dizziness, confusion and increased anxiety and recalls "waking up in a panic ... basically due the uncertainty of it all."
"My worst symptoms were at night and I spent a lot of nights pacing in my bedroom," said Southworth, who believes he's "definitely past the worst of it."
Getting through this pandemic will require extreme vigilance, he stressed.
"Don't give up."
———
©2020 The Eagle-Tribune (North Andover, Mass.)
McClatchy-Tribune News Service