CO working on Rikers Island tests positive for COVID-19
Hours after the CO tested positive, the first Rikers Island inmate also tested positive for the novel coronavirus
---
By Sarah Calams
NEW YORK — A correctional officer working on Rikers Island, as well as a Rikers Island inmate, have tested positive for COVID-19.
Elias Husamudeen, president of the Correction Officers Benevolent Association, told the NY Post that the two cases may signal a potential outbreak at the jail.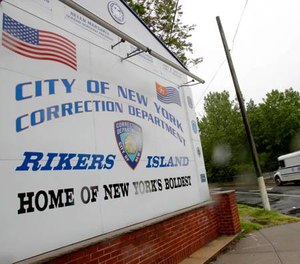 The officer, who tested positive on Wednesday, is the first NYC DOC officer to test positive for COVID-19. Officials said the officer works security for the front gate at a jail facility on Rikers Island.
Over the weekend, an investigator with the NYC's DOC died from COVID-19. The investigator's death marked the city's first municipal-worker fatality from the novel coronavirus.
"The crisis will grow worse with each passing day. Give us the help we need now," Husamudeen said in a statement.
Husamudeen advised the board of corrections to "implement their contingency plans" after the two positive cases. He also asked the city to provide face masks for correctional officers and that no new inmates are housed on the island.