How the National Sheriffs' Association is working to assist agencies in the COVID-19 crisis
The NSA has formed an industry action group in order to better coordinate with and assist sheriffs' offices in getting vital supplies
---
As the COVID-19 crisis continues to deepen its impact on law enforcement agencies across the nation, the National Sheriffs' Association (NSA) has formed an industry action group in order to better coordinate with and assist sheriffs' offices in getting vital supplies to deputies working the frontline of the outbreak.
The initiative is a collaboration between the NSA and numerous corporate and industry partners, including Home Depot, Motorola Solutions, AWS and dozens more.
"They have been very gracious to serve on an advisory group and help us identify what they may have in their tool belt and connections they may have to better provide services and supplies to agencies," Jonathan Thompson, NSA's CEO and executive director, told Police1.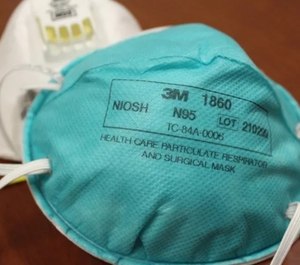 The group recently held its first meeting, discussing how the NSA can help industry leaders expedite partnerships with agencies during the crisis, improve agency access to critical supplies through those partnerships, and tackle potential slowdowns at the state level or federal level.
Thompson says the most immediate concern being voiced by sheriffs is the need for medical supplies, including personal protective equipment and disinfectants. While PPE and other medical supplies are the tier one focus, agency needs during the pandemic extend far beyond that.  
"Everything from I.T. support for a shortfall of people working in their offices to do the work to equipment that needs to be replaced on an urgent basis and expediting that replacement of equipment," Thompson said. "We're also seeing a serious level of long-term planning regarding jail operations. How do we make sure inmates are still getting housed, clothed and fed in an efficient and effective way? While we're seeing a number of depopulation efforts, there are still several hundred thousand people in jails across the country and they have to be fed, clothed and taken care of."
As for what needs to be done now to protect deputies, Thompson says he's most concerned about PPE and testing.
"Reliable tests are vital because we need to know if someone has been exposed, where they are in the infection cycle and where they are in the shedding cycle," Thompson said. "We want to make sure that once we have people tested and their symptoms are becoming more acute, that they know, number one, you can't work. Number two, you need to get yourself taken care of – whether rest and staying at home can suffice or if it's more dangerous or risky than that, getting them to a hospital as soon as possible. Those are the things that are keeping me awake at night – getting more PPE and getting test equipment to sheriff's offices immediately."
"I think it's going to be incumbent upon the federal government and state governments to make certain we don't expose first responders," Thompson continued. "And when they are exposed, we've got to be able to respond to them and support them. So, we're urging governors to evaluate every day those tier one personnel that need to be protected with PPE, as well as tested. Those are the essential factors."
For companies or individuals who would like to provide support to the initiative, they can follow this link. Sheriff's offices in need of support can contact the NSA via the member website or through their state association.
"Law enforcement and first responders have been helping people in this country for hundreds of years," Thompson said. "We need help now, too. We need our leaders to recognize first responders are vulnerable and we need their help. We need the private sector to step up and we know they can, and we know they want to. We're eager to accept that help."