Md. prisons distributing more PPE to staff, inmates
A constant influx of PPE is needed considering how quickly staff and inmates go through and reuse equipment
---
By Phillip Jackson
The Baltimore Sun
BALTIMORE — Maryland has supplied more than 2 million pieces of personal protection equipment to staff and inmates across the state prison system, but the correctional officers' union and prisoner rights advocates say that is the bare minimum needed to slow the spread of the deadly COVID-19 pandemic.
The more than 2.18 million items includes disposable and reusable gowns, gloves, hand sanitizer, surgical masks, face shields and goggles, Maryland Department of Public Safety and Correctional Services spokesperson Mark Vernarelli said.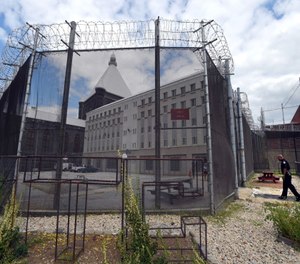 But union officials say that number is not as large as it seems because the staff goes through so much protective equipment every day just to try to keep workers from contracting the coronavirus.
Patrick Moran, council president for AFSCME 3, said a constant influx of protective equipment is needed considering how quickly inmates and staff go through and reuse equipment. Such protective gear is the only way to protect people in an enclosed environment where social distancing is virtually impossible, he said.
"That's a big number. However, roughly 26,000 people are going through it every day, and some items are used daily or every other day," Moran told The Baltimore Sun.
A total of 1,102 cases of COVID-19 have been confirmed in Maryland prisons, according to the Maryland Department of Public Safety and Correctional Services, including 465 staff and 637 inmates. Eight prisoners and one correctional officer have died from the virus, the department said, far lower than the number of prison deaths in many other states according to statistics from the nonprofit Marshall Project.
Testing numbers supplied by the state show that the rate of inmates testing positive remains low compared with the positivity rate among all residents. With 18,844 tested as of this week, according to the state, only about 3.5% have come back positive. By contrast, the state overall reported that 4.45% of tests among the general population came back positive on Wednesday.
Still, the dangers of coronavirus in Maryland prisons are alarming not only workers and their union, but also friends and relatives of inmates in the facilities
On Thursday, demonstrators took to the streets in downtown Baltimore with a car caravan that ended in Towson at a rally demanding more resources and attention to conditions inside Maryland's prisons.
Sonia Kumar, a senior staff attorney with the Maryland American Civil Liberties Union, said experts have been warning state officials about the need to prevent further spread for some time.
"Nothing has changed," she said, pointing specifically to a lack of protocol on how inmates are retested if their initial test result is positive. Advocates also want more details on how and when inmates who test positive are sent back to the general population.
"As long as they are in that setting, they are at a risk for harm," Kumar says.
Early in the pandemic, the Maryland prison system placed inmates in lockdowns that continue to this day. Those inside are growing frustrated and isolated after nearly four months, their families and prison advocates said this week. Kumar said overcrowded facilities in very hot environments during the summer only worsens conditions and inmates' mental states.
Martina Hazeltown is co-founder of the Family Support Network, a Maryland advocacy group helping prisoners, juveniles and their families. She said the state has not come up with an adequate and transparent plan for preventing further spread of the virus in the facilities. Inmates do get access to showers, but with strict time limits, she said, and there is often not enough soap and sanitizer to go around.
Hazeltown says the department's lack of communication has made it difficult for prison advocates to pinpoint solutions.
"We all realize that we are in uncharted territory, and this is unprecedented. But the department of public safety does not feel like they have to communicate to anyone," Hazeltown said.
Vernarelli said the department follows protocol given by the state's health department and has been conducting universal testing following criticism from advocates in the early months of the pandemic.
The disease seems to have hit some facilities in Maryland especially hard.
The Baltimore Central Booking & Intake Center has confirmed 102 inmates have tested positive, the most of any facility in the city.
Statewide, the Maryland Correctional Institution-Jessup has the highest total number of confirmed cases among inmates with 148, while nearby Jessup Correctional Institute has reported 94 positive tests.
———
©2020 The Baltimore Sun
McClatchy-Tribune News Service